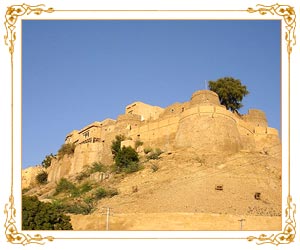 Rajasthan has been a place of interest to both the archeologists and the geologists. Kalibanga and Akal Wood Fossil Park are two such places that attracts them most.
Kalibanga:
The small town of Kalibanga is located in Hanumangarh district and lies 205-km away from Bikaner. Archeologists have proved the existence of Indus Valley civilization in desert of Thar and the remnants of the pre-Harappan and Harappan settlements that have been unearthed here have played a big role in their supposition. The archaeological evidences found at Kalibanga shows that Rajasthan had once been an important centre of the ceramic industry as the paintings on the ancient pottery found at this place bears close resemblance to the Harappan designs. Even the contemporary pottery of Rajasthan has a distinct influence of the Indus Valley ceramic industry and the related handicrafts.
Akal Wood Fossil Park:
17 km from Jaisalmer, Aakal Wood Fossil Park that houses fossils, which are 180 million years old! Considered to be geological landmarks, these fossils recreate the world of Jurassic period before us when the entire Thar Desert lay under the sea, just as indicated by a legend in Ramayana (the great epic of Hindu religion). The park sprawls over the area of 10 sq km and boasts of 25 petrified trunks, the largest being 13 m long. It is believed that the area was once covered with thick forests of non-flowering trees, mainly comprising of Chir and Deodar. It is believed that the sea retreated about 36 million years ago and left behind a fossiled forest in this area and the wood fossils of the place, has given ample evidence to the geologists to believe that a possibly hot and humid climate existed in the region 180 million years ago as well as the area has been under the sea on four different occasions.