Day 01 Jaisalmer - Bhoo Village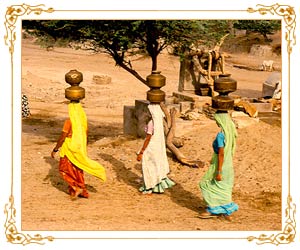 After breakfast, camel ride from Jaisalmer to Dhanawa village.
Dhanawa
- 17 centuries old Paliwal Brahim Village from where they were driven away by Prime Minister Salam Singh.
After lunch, camel ride to Bhoo Village.
Bhoo
- Village of Brahmins, the chief occupation of the people here is agriculture and cattle-rearing.
Bonfire evening with cultural program, drinks & snacks (non-veg only). Dinner and overnight stay at Swiss tented accommodation.
Day 02 Bhoo Village - Hansua Village
After breakfast camel ride to Hansua village
Lunch at Rani Ki Dhanni on way.
Arrival at Hansua Village for dinner and overnight stay. Dinner is served with a campfire and traditional music and songs performed by Rajasthani natives.
Overnight stay at Camp.
Day 03 Hansua Village - Jaisalmer
After breakfast, explore Hansua.
Hansua
- A farmer's village, one can see dry fields, stone houses and colorfully dressed villagers occupied in farming or cattle-rearing.
Lunch at the Farm House of Bhati Rajput Warriors at Lakji Ki Dhani. Ladies are free to go inside the house and see the dresses & ornaments of Rajput ladies.
After lunch in village, proceed to the hotel at Jaisalmer, which is your final destination on the tour.