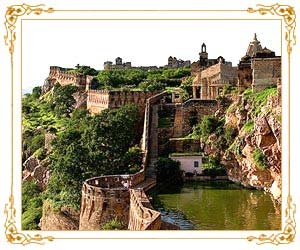 The Chittorgarh Fort has witnessed three bloody sieges and 'jauhars' (a Rajput tradition in which royal maidens and ladies immolate themselves in the fire to save their honor from the cruel hands of the enemy, when there is no chance of defeating the enemy). The walls and the atmosphere is still haunted with the gloom of despair, valiant pride of the Rajput queens and ladies and sheer zeal and bravery of their men who refused to cow down before the enemy. The Rajput style of architecture is clearly visible in the fort, which is said to be the Gahlot and Sisodia ruler of Mewar from the 8th to the 16th century. Named after Chittrangad Mauraya, the magnificent fort rises 150 m above the surrounding region and runs to an approximate length of 3 km covering an area of 60 acres and peripheral length of 13 km.
The legend says that when the talks of Rani Padmini's beauty reched the years of Sultan Alauddin Khilji, the powerful ruler of Delhi, he requested her husband, Rana Rattan Singh, for a glimpse of the queen. Though, it went against the honor code of Rajputs, yet he was allowed to get a glimpse of the queen through the reflection of the queen in a water tank that overlooked the palace. Alauddin, then, had the audacity to attack Chittor to gain her possession. He won the war but lost Rani Padmini who committed 'jauhar' to save her honor.
The entrance of the Chittorgarh has seven massive gates, the two towers known as the 'Kirti Stambh' (Tower of Fame) and the 'Vijay Stambh' (Tower of Victory) along with several temples, reservoirs, and palaces dating between the 9th and 17th centuries.