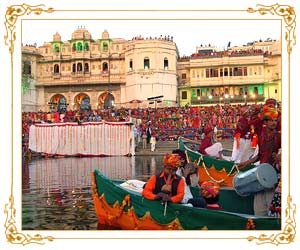 'Gan' represents Lord Shiva and 'Gaur' represents Goddess Gauri or Parvati, His consort. Gauri is considered to be the Goddess of marital happiness and conjugal bliss. Mainly the festival for maidens and ladies, they worship her for good husbands and the welfare, health and long life of their husbands respectively.
Gangaur is celebrated all over Rajasthan. People make images of Isar and Gauri out of clay. Some of them even keep traditional wooden images, which are painted afresh every year by 'matherans' (painters) on the eve of the festival. The ladies paint their hands and feet with 'mehandi' (myrtle paste). Unmarried girls carry 'Ghudlias' (earthen pots with holes all around in which a lamp is lit) on their heads and collect songs and people make offerings to them. This ritual is observed to celebrate the triumph of Rao Santhal, ruler of Jodhpur over the cruel Mir Ghudley Khan, who had carried away 140 young girls celebrating the festival of Gangaur, in 1548 AD. The burning lamp symbolizes maharaja's valor and chivalry.
There is a huge procession taken out of Goddess Gauri taken out by the ladies and maidens, dressed in their best attire and singing songs of the departure of Gauri to her husband's house.
There is uniqueness to the festival in different places. In Bikaner, married women and maidens observe fast and prepare sweet dishes for the festival. In Jaipur, 'ghewar' is especially made as a dessert on the Gangaur Festival along with the grand procession of the image of Gauri from the Palace Gate known as Tripolia to Talkatora. Jodhpur has the fair of 'lotias', where thousands of maidens bring water and 'durva' grass in pots made of silver or brass to a place known as Girdikot.
The procession in Nathdwara, lasts for 7 days. Each day, a particular color is chosen for the dress of the goddess with the last day seeing Gauri dressed in black with golden lace work. In Udaipur, the procession ends at the Pichhola Lake, where idols of Isar and gaur are sent for boating for an hour and then there is majestic display of fireworks on the banks.
There is an interesting way to celebrate Gangaur among the Girasia tribe, who live in Sirohi-Mount Abu region. During their month-long festivity of Gangaur, the eligible boys and girls of the tribe are free to select their life partners and elope with them, and that too with the social sanction!