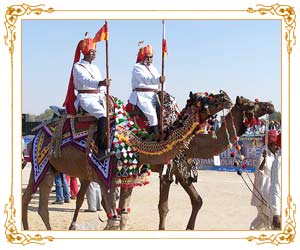 Attraction: Best Breed Competition, Tug-Of- War, Camel Dance, Acrobatics.
Organized by the Department of Tourism, Art & Culture of Rajasthan, Camel Festival is held every year in the desert land to attract tourists who love to see long-necked, hunch-backed camels dancing to the tunes and directions of their trainers. Their rhythmic footwork, decorative bridles, jingling anklets with a backdrop of massive Junagarh Fort made of red sandstone and dusky sands mesmerize the audience. Camels are undeniably an important beast of burden in the desert land and here you can see how proudly the breeders dressed in vibrant colors display their bedecked camels.
There is best breed competition, acrobatics and tug-of-war contest that lends gaiety to the festival. Casting spell on the onlookers, one can see, eminent artistes and local folk performers of Rajasthan that compliment the charisma of euphoric dancers who swirl their skirts and move in circles untiringly, fire dancers who balance burning lamps on their foreheads while dancing and crackers and fireworks that takes the message of happiness and joyousness to the skies.