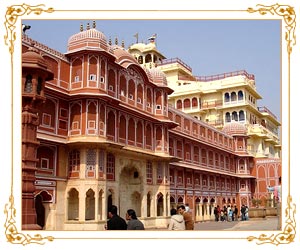 Situated in the capital of Rajasthan, the City Palace of Jaipur or the chief palace is a titillating fusion of conventional Rajasthan and Mughal architecture. The gigantic palace complex engages one seventh of the walled city of Jaipur. Originally constructed by Maharaja Jai Singh II of the Kachhwaha clan of Rajputs, embellishments have been made to the palace complex from time to time by many of his successors. The complex is divided into a series of beautiful courtyards, extensive gardens and magnificent buildings. It houses a number of palatial structures, most notable ones being the Chandra Mahal, Mubarak Mahal, Badal Mahal, Shri Govind Dev Temple and the City Palace Museum.
Mubarak Mahal or the Auspicious Palace is in the first courtyard. Maharaja Madho Singh II built it in the late 19th century. It holds the textile section of the Maharaja Sawai Man Singh II Museum. A magnificent gateway leads to a stately courtyard known as Diwan-I-Khas or Hall of Private Audience, which is indeed an open hall ornamented with a double row of columns sporting scalloped arches. There are the two largest silver vessels in the world that won their place in the Guinness Book of World Records that were used for carrying water from the holy Ganges for the personal use of the Raja Madho Singh II, when he went on his journey to England. Now, a part of the museum, Diwan-E-Aam or the Hall of Public Audience has intricate decorations in deep red and gold. Ridhi Sidhi Pol is a gateway with four small doorways that are decorated with motifs that depict the four seasons.
The poised seven-storeyed Chandra Mahal or the Moon Palace has been retained by the royal family in part and still serves as their present-day residence. It offers classic views of the gardens and the city. Traditionally ornamented, paintings, floral decorations, mirror walls and ceilings adorn the palace. Each storey has a distinguishing name and its ground and first floor is occupied by the Maharaja Sawai Man Singh II Museum.