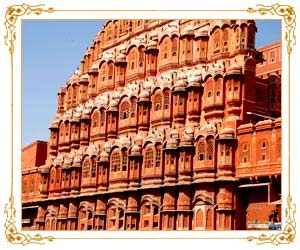 Maharaja Sawai Pratap Singh erected Hawa Mahal or the Palace of the Wind in 1799, which eventually became one of the major landmarks of Jaipur. An integral part of the City Palace, it is actually an extension of its women's chambers, and is secluded from the main complex. Lal Chand Usta designed this exemplary five storeyed building in red and pink sand stone. It is beautifully outlined with white borders and its motifs are painted with quick lime. The monument provides a spectacular view of Jaipur city overlooking the road avenues, intersections and colorful crowds in the market. It was originally conceived in the era when ladies lived behind veils and screens so that the ladies of the royal household can see glimpses of the everyday life and the royal processions in the city without being seen by others.
Its delicate façade looks more like a screen from the roadside than a palace. It looks like a honeycomb with its pyramid-shaped structure that has tier after tier of 953 small casements. Each casement has tiny lattice worked pink windows, along with small balconies and arched roofs with hanging cornices that were deftly modeled and carved. These small windows also serve to circulate cool air in the palace, an ingenious device to keep the place cool without the use of electricity, even in hot months. The pyramidal outline is smooth throughout by shoving and multiplying casements to fill up the spaces as requires and uses repetition of motifs to augment its beauty.
One can enter the Hawa Mahal from the City Palace side, through a pompous door, which opens into a large courtyard surrounded by a double storeyed building on three sides that houses a small archeological museum here. However, the eastern wing is five storeys high, the above three storeys being only a single room thick. The building stands on a raised platform and is actually a fifty-foot high thin shield, not more than a foot thick and has the small intimate chambers, giving the palace its distinguishing façade. No regular stairs have been built to reach the upper floors except the ramps. Hawa Mahal is currently under the supervision of the State archeological department and the best time to see it is at sunrise when sunlight through the latticed windows renders it a divine glow.