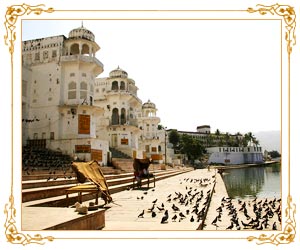 Pushkar is one of the most famous Hindu pilgrimage sites and it is said that a dip in the sacred lake of Pushkar is akin to the visits to the four main Hindu shrines known as 'Chaar Dhaam'. The charming lake of Pushkar is surrounded by hills on three sides and sand dunes on the fourth and presents an ideal site for the religious and cattle fair, which is held every year in the month of October or November. Pushkar alone has more than 400 temples and is said to be the only place with a temple dedicated to Lord Brahma, one of the most important member of the Holy Trinity of Hindus who is known as 'The Creator').
Historically, Pushkar is not far behind. It has it share of being one of the cities of great strategic importance and was bagged by Mehmood of Ghanzi on one of his periodic forays from Afghanistan. Later Mughals acquired it and it is said that it was here that the British established contact with the Moghuls for the first time. In 1616, Pushkar witnessed the meeting of Sir Thomas Roe with Emperor Jehangir. Pushkar eventually fell into the lap of Scindias until it reached the hands of British in 1818, who preferred to keep it directly under their control rather than letting it remain as a part of a princely state.
Pushkar owes much of its beauty to the beautiful hills surrounding it and 'Nag pahar' (translated as 'The Snake Mountain') that forms a natural boundary between Ajmer and Pushkar. According to Hindu mythology, all the gods visit Pushkar for five days in a year to bless the devout and absolve them of their sins. There are many legends associated to the origin of Pushkar and Pushkar Fair but they have one thing in common. They are all associated with Lord Brahma. A visit to Pushkar Fair is an experience of a lifetime and is certainly not worth a miss.