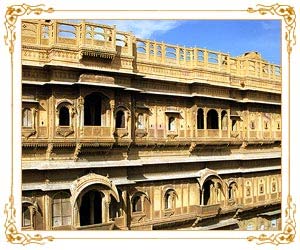 The beautiful sandstone mansions of Jaisalmer's wealthy merchants are known as 'havelis'. Their elaborate homes are a poem etched out in sandstone with infinite details and pains, carved and pieced together in different patterns, and though they are lavish and loud in nature, there is a perfect harmony that characterizes them and they are a treat for the eyes of the beholder.
Nathmal ki Haveli
of the late 19th century was also a prime minister's house and two brothers carved its left and right wings, which are similar in their looks. Its highlights are yellow sandstone elephants that stand majestically at its entrance and the intricately carved front door. It seems that the jewelers instead of the stone-carvers did the so-minute carvings of the building.
Patwon ki Haveli
is the most convoluted and outstanding of all the Jaisalmer havelis. It stands in a narrow lane in the centre of the city and one of its apartments is painted with stunning murals. Built by the well-renowned dealers in brocade, gold and silver embroidery of their time from Afghanistan to China, Guman Chand Patwa and his five sons, there are five suites in the building dating between 1800 and 1860 and was so designed as to showcase their beauty of work in the stone carving of their mansion.
Salim Singh ki Haveli
was built about 300 years ago and a part of this is still being used as residence. It was owned by Salim Singh, a former prime minister of the state of Jaisalmer and has an arched roof with superb carved brackets inn the form of peacocks. It is worth a lengthy look and admiration of the tourists who revel to see this pride of Jaisalmer architecture, which is now a part of the national heritage. Situated at the eastern end of the city, it seems to have sprung out of Arabian Nights, with its top blossoming like a wild flower.