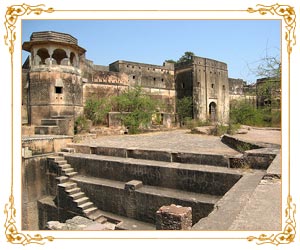 PRIME ATTRACTIONS
Forts & Palaces
Taragarh Fort
The colossal fort stands watching the city. There are six entrance points in the fort. The fort houses Miran-Saheb-ki-Dargah, the governor of the fort who died fighting in an encounter. The fort offers a panoramic view of the city situated in Nagpahari hills of Aravalli ranges. This fort has immeasurable historical and archaeological importance.
Monuments
Adhai-Din-Ka-Jhopra
'Adhai Din'
means 'two and a half days' and suggests the time duration in which this building was built. A marvel, a masterpiece of Indo - Islamic architecture, this building is an artifact of an old mosque and is made up of a with a front screen wall with seven pointed arches. The distinctive pillars and arched screen with ruined minarets make it a superb architectural masterpiece.
Dargah Sharif
'Dargah Sharif'
or
'Holy Dargah'
is one of the most sacred Muslim shrines in the country. Venerated by both Hindus and Muslims, it is the tomb of Khwaja Moin-ud-din Chisti, a Sufi saint who came from Persia and devoted his life to the service and upliftment of the poor and downtrodden. The Dargah has a massive gate with silver doors built in several stages. Revered by the Mughal rulers, it has touches of Humayun to Shah Jahan in its structural architecture. A silver railing and a marble screen surround the actual tomb of the saint, made of marble with a gold plated dome.
Lakes
Ana Sagar Lake
The favorite outing spot of the city, Ana Sagar Lake is an artificial lake named after Anaji Chauhan. The 'Baradari' is surrounded by parks and the pavilions, which were built by Shah Jahan to assist his long stays in Ajmer. Local people helped to build the catchments.