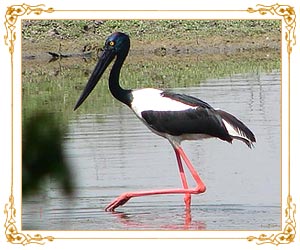 It is surprising what is not of much interest to human beings holds such a great fascination among all types of birds, even the rare ones. Jats once ruled this small town founded by Maharaja Surajmal and today it has not that much of rich heritage historically, architecturally or even, commercially like the other cities of Rajasthan. Yet Bharatpur holds an important place in the tourism industry for it is the home of exotic bird life. Today, bird watchers flock to this once duck-shooting spot of the royal family for an opportunity to soothe their eyes with more than 380 species of beautiful feathered friends who have already been identified here and even for the opportunity to spot some more!
CLIMATE
The temperature ranges as high as 38ºC to 45ºC in summers. There is retrieve when the monsoons approach in July and August and lower the temperature to about 27ºC. Winters are cold and temperature may drop down below 10ºC. Fog and mist is not uncommon throughout January.
HOW TO REACH
By Air:
Though there is a domestic airport at Agra, the international flights are accessible only to and from New Delhi.
By Train:
Bharatpur is well connected by trains to Delhi, Mumbai, Ahmedabad, Jaipur and other major cities of India. Palace on Wheels has Bharatpur on its itinerary list.
By Road:
Bharatpur is linked to Agra and Jaipur via good roads. Buses are available to and from Agra (time duration of two hours) and Fatehpur Sikri (time duration of one hour) and many other places.
FAIRS AND FESTIVALS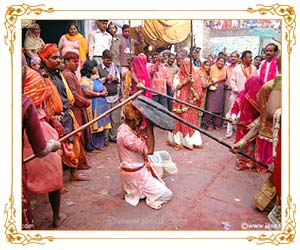 Brij Festival
is held prior to the festival of Holi (according to the Hindu calendar), which usually falls in March at Bharatpur, Rajasthan. Marked by the vim and vigor of Holi, the festival of colors, the Brij Festival finds villagers full of zest and vitality. They dress in brightly hued attires and sing songs and dance. The featured dance of the festival is the Raslila dance, where the immortal love story of Radha and Krishna is enacted. During the festival, young and old, men and women, ring with the boisterous folk melodies and splash colors on everybody. The gaiety is infectious enough to take a hold of everybody who is there to witness the festivity.
WHAT TO WEAR
The most appropriate outfits to wear in Bharatpur would be loose cotton clothes in summer and woolen clothes to keep you warm in winter. Use a hat or a scarf as a head covering and drink lots of water to avoid heat strokes. It will be advisable to wear comfortable footwear, as you will have to walk a lot here while sightseeing in the bird sanctuary.