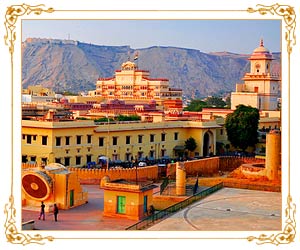 Conceived and built by the great and mighty king, Sawai Raja Jai Singh, the name of the city 'Jaipur' has dual emphasis. 'Jai' means victory and and is also the first name of its maker. Today, the city is a major tourist attraction in India because of its magnificent forts, grandiose palaces, vivacious temples, multihued bazaars, pulsating streets and its renowned pink color to which the city owes its oft-used name 'The Pink City'. This famous pink color symbolizes 'welcome' and was adopted during the times of the ruler Ram Singh II when he received the Prince of Wales in 1876. The color was chosen after several experiments to cut down the intense glare from the reflection of the blazing rays of the sun. Today, every home within the old city is obliged by law to maintain this uniqueness of the city. Throughout the old city you can see the traditional, marvelous, pink-colored houses with latticed windows lending charm to a scene which is almost miraculous at sunset.
CLIMATE
Jaipur has hot and humid summers and chilly winters. The maximum temperature in summer (from April to July) is around 45ºC. In winters (from October to March), days are sunny and pleasant days but during nights, temperature can be as low as around 5ºC. Foggy evenings are also part of the winters here.
HOW TO REACH
By Air:
Jaipur has daily flights to and from Delhi and Mumbai. It is also well connected with Udaipur, Jodhpur, Jaisalmer, Ahmedabad, Aurangabad and Calcutta. The airport is not more than 20 km from the city centre.
By Train:
You can find a train to Jaipur from all the major cities of India. From Delhi, you can catch Shatabdi Express, Intercity Express, The Pink City Express and Chetak Express. Super Fast Express links Jaipur with Mumbai. The specialty trains like 'Palace On Wheels' (operational all the year round and has a 8-day trip) and 'The Royal Orient' (operational only from September to April) are, of course, the best options from Delhi.
By Road:
Jaipur being the capital of Rajasthan, one can find frequent deluxe buses that include luxurious air-conditioned buses too, from Delhi, Agra, and all cities of Rajasthan to Jaipur. Sindhi Camp, the central bus terminal is situated in the heart of the city.
WHERE TO EAT
Jaipur has a range of multi-cuisine restaurants in its deluxe hotels that offer an assorted mixture of Indian, Asian and European cuisines and varied, yet, elegant environments. The Mirza Ismail Road (M. I. Road) has a number of eateries that serve good food in clean surroundings. If you are feel-the-real-thing types, you may try the Station Road with its many 'dhabas' or small roadside restaurants.
FAIRS AND FESTIVALS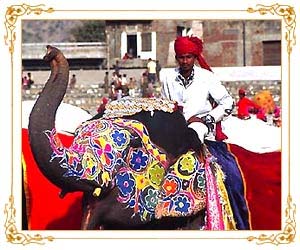 Elephant Festival
is held in March or April every year on the auspicious occasion of Holi, the festival of colors. As the name suggests, dozens of elephants parade at the Chaugan stadium. The best-attired elephant is given a prize. Elephant Polo and cultural songs & dances are featured events in this festival.
Gangaur Festival
takes place in March/April near Holi. It is celebrated in the honor of Goddess Gauri and is celebrated mainly by the women and girls. It is associated with marital happiness and conjugal bliss. The womenfolk enthusiastically perform several rituals associated with the event and a colorful procession of the Goddess is carried out in the city, which is a big tourist attraction.
Teej Festival
is celebrated in July/August to welcome the monsoon season, which is so much awaited in the desert capital. A huge procession is carried out in the main streets in the honor of Goddess Teej, which includes elephants, camels, horses, chariots, palanquins, band players, acrobats and folk artists. Temporary jhoolas (swings) are erected for youngsters to enjoy. Effervescence, jubilation and myriad hues, which are characteristic of the state of Rajasthan, can all be seen here.
Jaipur Festival
is a fairly recent event that takes place in the month of November where myriad of programs, competitions and felicitations are organized meant to revive old customs and traditions of princely Jaipur. It closes on, November the 18th, which is deemed as 'the birthday' of Jaipur.
Kite Festival
is a three-day festival held on the eve of Makar Sankranti that falls on 14th January every year when the skies are of multi-colored skies vying with each other all-day long. The featured events are Fighter Kite Competition and Display Flying, where the participants compete with each other for the coveted prizes. On the final day, the Maharaja of Jodhpur gives a farewell dinner and distributes prizes at Umaid Bhawan Palace, the royal residence.
SHOPPING ATTRACTIONS
Popularly known as 'The Gem City', Jaipur is famous all over the world for its gemstones master cutters, polishers and gemstone dealers and for its cut and polished emeralds. It is also a world leader in semi-precious stones and Kundan (the art of setting precious stones in gold) - Meena (the art of enameling on gold or silver) jewellery. Other famous items to shop for in Jaipur are: - Lacquered Bangles, glazed Blue Pottery with its origin in Persia, Hand Block Printed Textiles, Tie & dye Fabrics (Bandhani/Bandhej), Stone Craft Marble and sandstone articles and traditional miniature paintings. Tourists are also often found shopping for 'jootis' (traditional Rajasthani moccasins) and 'kathputlis' (puppets). Jauhari Bazaar is a place to shop for jewellery and tie-dye saris while Bapu Bazaar and Nehru Bazaar are famous for textiles, local perfumes and 'mojadis' (shoes made of camel skin). A number of emporiums can be found on Mirza Ismial Road (M.I. Road) selling a huge range of goods - from jewellery and brass work to textiles, from blue pottery to woodwork and many more. You can visit Sanganer Village for hand-made paper, block printing and blue pottery.
WHAT TO WEAR
In summers, light cotton clothes are advisable while you will need light woolen clothes in winter.