JAIPUR PRIME ATTRACTIONS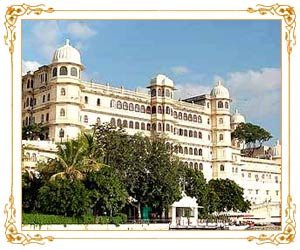 Forts & Palaces
City Palace
Chandra Mahal, more popularly known as City Palace, is still the residence of the royal family, at least, in part, while Maharaja Sawai Man Singh II Museum that occupies the ground floors and outer courtyards offers rare manuscripts, Mughal and rajasthani miniature paintingss, mughal carpets, royal costumes and textiles, arms and weapons.
Amer Palace
Raja Man Singh built Amer Palace in 16th century. It is a mesmerizing blend of Hindu and Mughal architecture. Jai Mandir, Sheesh Mahal, Sukh Niwas and Ganesh Pole are the main areas of interest in the palace.
Hawa Mahal
Latticed windows and stone screens lend an additional charm to the multi-layered palace of Hawa Mahal. Raja Sawai Pratap Singh (grandson of Sawai Jai Singh and son of Sawai Madho Singh) built it in 1799.
Nahargarh Fort
Originally known as Sudarshan Garh, Nahargarh or the Tiger fort was built in 1734 by jai Singh II. It was one of the first of the three forts built by the kings of Jaipur and from here you can see the scenic beauty of the Man Sagar Lake.
Jai Garh Fort
Jaigarh fort was built in 1726 by Sawai Jai Singh and is very similar to Amber Fort. It features the mighty Jaivana, the largest wheeled canon in the world along with three water tanks, a museum, and stunning views of the city of Amber below.
Jal Mahal
An 18th century pleasure palace, perched amidst Mansagar Lake, Jal Mahal is noted for its complicated design and majestic structural design. Situated across the cenotaphs, there is causeway that leads us to the Jal Mahal Palace.
Museums
Government Central Museum
Built by Colonel Sir Swinton Jacob in 1876, Government Central museum or Albert Hall Museum is the oldest museum of the state. Located in the Ramnivas Gardens, it has Indo-Persian style of architecture. The museum has a wide range of domestic metal objects, miniature paintings from the Bundi, Kota, Kishangarh, Udaipur and Jaipur schools of painting, ceremonial robes worn by royal families and samples of wood block printing.
Gardens
Sisodia Rani Ka Bagh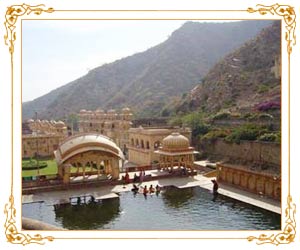 Built by Sawai Jai Singh II for his Sisodia queen - the Sisodia Rani-ka-Bagh has splendid tiered multilevel gardens, fountains, pools, some gorgeous pieces of sculpture and painted pavilions.
Vidyadhar's Garden
Built in the memory of Vidyadhar, the architect of the Pink City, it is situated 7 kms. east of Jaipur in a narrow valley surrounded by high hills. It has been renovated recently and used to be the former vineyard of the royalty. This is a terraced garden with fountains, pool and other features of a formal royal resort.
Monuments
Jantar Mantar
The amazing astronomical three-storey-high observatory was built between 1728 and 1734 based on the drafts of Maharaja Jai Singh II. Jantar-Mantar in Sanskrit means 'Magical Device'.