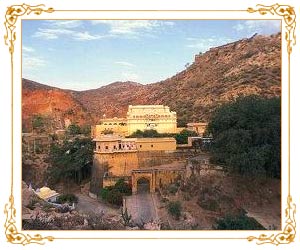 Samode Palace (40-km North West)
The beautiful Samode Palace has been rebuilt and renovated and is now serving as one of the family run hotels that offer personalized service and attention to detail. It is an exquisite example of the Rajput haveli architecture and offers a panoramic view to its guests.
Shekhawati
The region of Shekhawati is known for its painted Haverlis. It means the garden of Shekha, named after its ruler Rao Shekha. It is often called as 'open art gallery of Rajasthan' as the painted Havelis rich in artistic tradition makes it commendable and fascinating. Most of them were built between 18th century to early 20th century. Various forms of fine art adorn the walls and the ceilings of these edifices. The havelis are noted for their frescoes depicting mythological themes and that of huge animals. Some od the later day frescoes show steam locomotives and trains.
Sanganer
16 km from Jaipur, is the small village of Sanganer, an important trade and industry centre that produces the finest hand-printed textiles (block printing or silk screen). The manual tanning and block printing by the use of simple techniques is still practised here and the patterns are made in huge tints. However, Sanganer is best known for the making of handmade paper. One may visit a paper factory and see the process while one can see big sheets of paper and colored materials drying on the river banks and in fallow fields as one drives through the city.