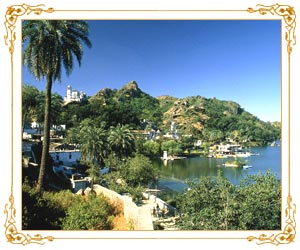 Mount Abu is perched on a 1,219 metres high rock plateau at the far southwestern end of the Aravalli hills. Well-known for its exquisitely carved marble Dilwara temples, Mount Abu is an appealing hill resort that attracts locals and foreigners alike. Being very close to Gujarat, it is a popular summer resort built around a lake and surrounded by thick woods and hills. It is said that the place was named after Arbuda, a serpent who descended to the spot to rescue Shiva's bull, Nandi. Besides the famous temples and other archeological remains, there are fascinating treks and picnic spots, romantic retreats of various erstwhile royal families of Rajputana and some remnants of the Raj period. Weirdly shaped gigantic rocks, lovely lakes and cool climate make Mt Abu a unique place in the arid desert land of the Thar.
CLIMATE
Being the only hill station of Rajasthan and situated at an altitude of 1,219 meters above sea level, people flock to Mt. Abu because it has dry, sunny but pleasant summers with temperature ranging from 15ºC to 33ºC while winters are bit colder with temperature ranging from 7ºC to 25ºC. The rainfall is scanty.
HOW TO REACH
By Air:
The nearest airport to Mount Abu is Dabok Airport in Udaipur.
By Train:
Mt. Abu is 29 km from the nearest railway station situated at Abu Road on Delhi-Mumbai route. Taxis, jeeps and buses are available from Abu Road to Mount Abu.
By Road:
Mt. Abu is well linked with smooth roads to all the major cities in northern and western India including Ahmedabad, Jodhpur, Udaipur and Jaipur.
WHERE TO EAT
The all-you-can-eat Gujrati thalis are at their best in Mt Abu and are available in the restaurants near bus stand and at the bottom end of the polo ground. There are good restaurants that offer spicy Punjabi and Chinese food and have a specialty in brain preparations like 'brain pakora' and conventional creations. There are multi-cuisine restaurants too where you get almost all the varieties of foods from vegetarian to non-vegetarian, oriental to western.
FAIRS AND FESTIVALS
Summer Festival
is celebrated for three days in Aashadh (according to the Hindu calendar), which usually falls in June. It is devoted to the tribal culture and folk music and dances. The Summer Festival features ballads, Gair, Ghoomar and Daph folk dances, which enchant the spectators with their grace and variety. Sporting events such as the boat race on the Nakki Lake add variety to the festival.
Gangaur Festival
is celebrated in Chaitra (according to the Hindu calendar), which usually falls in March or April. 'Gan' represents Lord Shiva and 'Gaur' represents Goddess Gauri or Parvati, His consort. Gauri is considered to be the Goddess of marital happiness and conjugal bliss. Mainly the festival for maidens and ladies, they worship her for good husbands and the welfare, health and long life of their husbands respectively. Gangaur is celebrated all over Rajasthan but there is an interesting way to celebrate Gangaur among the Girasia tribe, who live in Sirohi-Mount Abu region. During their month-long festivity of Gangaur, the eligible boys and girls of the tribe are free to select their life partners and elope with them, and that too with the social sanction!
SHOPPING ATTRACTIONS
Tourists who come to Mt Abu from all over the world to see the beautiful Dilwara Temples, flock to the market surrounding Nakki Lake for mementos and gifts for their loved ones. The highlights to look for here are curios made from marble, sandalwood and sandstone that are quite a delight to see. Kota saris and apparels, ethnic and traditional Rajasthani bangles, Sanganeri prints in linen along with other Rajasthani handicrafts are also among the favorite buys.
WHAT TO WEAR
In summers, light cotton clothes will do while you will need warm woolen clothes in winter.