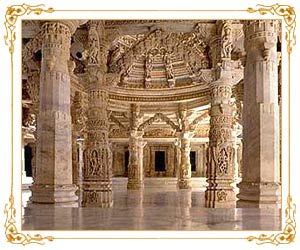 PRIME ATTRACTIONS
Lakes
Nakki Talav
This dazzling blue artificial lake is said to have been dug by the gods using their fingernails ('nakh' means nail). Near the lake is the 14th century Raghunath Temple while Nakki Lake Road surrounds the entire lake. Boat rides in its placid calm waters are exhilarating.
Temples
Dilwara Temples
The complex consists of five marble Jain temples, which are considered to be one of the finest in Rajasthan, and is one of the biggest tourist attractions of India. These delightfully carved temples were built between 11th to 13th centuries and are an absolute delight. They are dedicated to the Jain Tirthankaras. The Vimal Vasahi Temple is the oldest and the best of these. It was built in 1031 and is dedicated to the first Tirthankara.
Gaumukh Temple
The temple is devoted to Lord Rama, and is centered on a spring gushing from the mouth of a marble cow. It is said to be the site of the ancient 'agnikund yajna' rituals. It has free access and one has to brave 700 very steep steps to reach the temple.
Others
View Points
The plateau offers some wonderful views, the most popular being the Honeymoon Point (Anadra Point) and Sunset Point, where hundreds of people assemble to watch the sunset every evening in a festive atmosphere of pony rides and memento sellers.