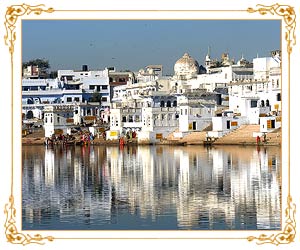 Cradled amongst the barren hills, Ajmer in indeed a green oasis with an interesting past. The city was named after its founder, Raja Ajai Pal Chauhan, who founded it in the 7th century. Since then, Chauhans reigned over Ajmer till Prithviraj Chauhan lost the city to Mohammed Ghauri. Nonetheless, the culture and traditions of the city were strongly influenced by its rulers and one can see the indelible imprint of various cultures on the city. Just like old days, Ajmer continues to be a popular pilgrimage centre for both Hindus and Muslims. Dargah Sharief, the tomb of the Sufi saint Khwaja Moinuddin Chishti, is equally revered by both the communities and Urs fair attracts thousands and lakhs of pilgrims every year.
CLIMATE
Ajmer has hot summers and cool winters. The maximum temperature in summer (from April to June) is around 45ºC. In winters (from November to February), days are sunny and pleasant but nights are bit cooler.
HOW TO REACH
By Air:
The nearest airport to Ajmer is situated in Jaipur.
By Train:
You can find a train to Ajmer from all the major cities of India. From Delhi, you can catch Shatabdi Express, The Pink City Express and Chetak Express.
By Road:
Ajmer is well connected by the network of roads to Delhi, Agra and all the major cities of Rajasthan.
WHERE TO EAT
Ajmer has a range of multi-cuisine restaurants and hotels that offer an assorted mixture of traditional Indian and Mughlai food and fast food. There is no specific cuisine of Ajmer but Rajasthani delicacies with their spicy, tangy flavor can be found in abundance.
FAIRS AND FESTIVALS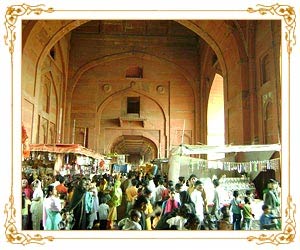 Urs Fair
is held during the first six days of Rajab (seventh month of the Islamic calendar) on the death anniversary of Sufi saint Khwaja Moin-ud-din Chishti, whose remains lie buried and are held in held in great reverence by devotees of all communities in 'Dargah Sharif' in Ajmer. Khwaja had come from Persia and established Chishtia order of 'fakirs' in India.
Pushkar Fair
is held in the month of Kartik that usually falls in October or November at Pushkar, which is 11 kms away from Ajmer, Rajasthan. One of the most sought-after fair in Rajasthan, a lot of tourists come to Pushkar Fair on pilgrimage as well as to see the display of a mystifying array of items. With the picturesque sand dunes as its backdrop, the camel fair and camel, horse and donkey races are the featured events of the fair. People indulge themselves in body tattooing as the villagers from distant places come here to trade their wares.
SHOPPING ATTRACTIONS
At Ajmer, one can look for items which have Rajasthani fervor and which echo the old-world mood of the area. The splendid silver jewellery with traditional old designs is the main tourist craze. The other things to be purchased are antiques, curios, mesmerizing contemporary gold and silver jewellery, colorful tie-and-dye sarees and fabrics, and embroidered 'jutis'. There is also a beautiful display of local colorful handicrafts at the annual Urs fair.
WHAT TO WEAR
In summers, light cotton clothes are advisable while you will need light woolen clothes in winter.