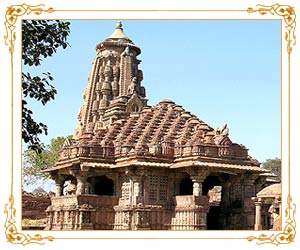 Legends of medieval concepts of Rajput honor, romance and valor haunts the ruins of the citadel of Chittaur where one can see glimpses of the imperial glory of the bygone era in its daunting forts, stylish palaces and fabulous
'chhatris'
. The three great attacks on this unfortunate fort led to
'Jauhar'
(a Hindu custom where royal ladies and maidens committed self-immolation to save their honor from the cruel hands of the enemy.) Their men would cover themselves up in the sacred ashes of these funeral pyres and walk to their deaths with a heavy heart and a will to kill-or-die. The land has given birth to the likes of Maharana Pratap who continued to defy Mughals till his death, despite of all the hardships that he had to bear. Even his enemies thus respected him. Today, Chittorgarh attracts tremendous interest from tourists all over the world, who come here to behold the wonders of some of the finest examples of Rajput architecture and the influence of Mughal style on them.
CLIMATE
The temperatures ranges between 25ºC to 45ºC in summers in Chittorgarh while winters are cooler and pleasanter with a temperature range between 10ºC to 30ºC. In this area, rainfall is scanty and generally ranges between 60-85 cm.
HOW TO REACH
By Air:
The nearest airport to Chittorgarh is Dabok Airport in Udaipur, which is 90 km from the city.
By Train:
You can find a train to Chittorgarh from all the major cities of Rajasthan and Delhi, the capital of India. From Delhi, you can catch Chetak Express. Trains going to Ajmer like Pass from Kota and 9769 Express from Khandawa, also take the route via Chittorgarh.
By Road:
Bus services to and from Chittorgarh are available from various important destinations such as Delhi, Mount Abu, Jaipur, Indore and Ajmer.
SHOPPING ATTRACTIONS
Chittaurgarh is just the right place to get your hands on the attractive wooden toys that are made by the rural people from Bassi, a village near Chittorgarh. Tourists can be seen buying Pratapgarh special, 'Thewa' articles, Akola's printed fabric of Akola and leather 'Mojri', a specialty of Gangaur, as mementos and gifts for their loved ones. The best places to go for the shopping spree are Sadar Bazaar, New Cloth Market, Fort Road Market, Rana Sanga Market, Gandhi Chowk and Station Circle.
WHAT TO WEAR
In summers, light tropical clothes are advisable while you will need light woolen clothes in winter.