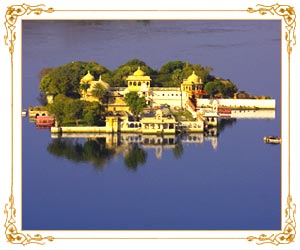 Romantic and divine, Udaipur is much more than an oasis in the desert with its beautiful lakes, exquisite palaces and architectural heritage and deserves the nickname of 'the Venice of the East'. The Lake Palace situated on Jag Niwas Island in the midst of Lake Pichola is the supreme example of its delicate architecture and refined culture. The banks of the lake have another beautiful building to boast of - the magnificent City Palace. Known for its arts and crafts and miniature paintings, Shilp Gram festival is a favorite tourist attraction of the city. Maharana Udai Singh II founded Udaipur in 1568 after he lost Chittorgarh to Mughal Emperor Akbar. It is believed that a saint meditating on a hill near Lake Pichola guided him to establish his capital here as it is surrounded by Aravallis, forests and lakes that makes it a safer place than Chittorgarh. His heir Maharana Pratap was a legendary hero who is still revered for his valor and chivalry and being the most ferocious Rajput warrior who gave a tough time to the Mughals all his life.
CLIMATE
Pleasant winters and scanty rainfall characterizes the climate of Udaipur. Though temperature rises to 40ºC in summers, but mostly it is tolerable and is around 30's.
HOW TO REACH
By Air:
Udaipur has a good network of air services linking it to from New Delhi, Jaipur, Jodhpur, Ahmedabad, Aurangabad and Mumbai. Nearest airport is Dabok Airport, which is 21 km from the city centre.
By Train:
It is well connected to and from all the major cities of India such as Chittrogarh, Ajmer, Jaipur and Delhi by trains. Palace On Wheels is a major attraction of course. The railway station is 4 km from the heart of the city.
By Road:
The roads are smooth and link Udaipur to various major cities of India such as Delhi, Jaipur, Chittrogarh, Ahmedabad, Ajmer, Indore, Kota, Mount Abu and Mumbai. Thus, there are bus services to and from Gujarat, Delhi and major cities of Rajasthan that end at the bus terminal, 2 km from the railway station.
WHERE TO EAT
There are plenty of eateries in Udaipur where you can find the spicy piquant Rajasthani delicacies along with almost all the continental and Chinese mouth-watering dishes. There is Lake Palace, which offers a royal cuisine with a perfect environment that befits the regal splendor of the bygone era. The Shiv Niwas Palace Hotel, Gallery Restaurant at Fateh Prakash Palace Hotel and Amet-ke-Haveli are other popular places that serve you with exotic dishes, elegant ambience and picturesque backdrops.
FAIRS AND FESTIVALS
Mewar Festival
coincides with
Gangaur Festival
in Chaitra (according to the Hindu calendar), which usually falls in March or April. It is mainly held to welcome 'Spring', the season of blossoms. As it coincides with the Gangaur festival, people dressed in colorful attires take out a procession of the images of Isar and Gangaur and the Gangaur Ghat at Lake Pichhola. The idols are then sent for boating for an hour in special boats and there is much rejoicing and songs are sung. Then comes the time for cultural events where one can see the culture of Rajasthan through songs, dances and other programmes that are organized. At the end of the festival, there is a beautiful display of fireworks.
Baneshwar Fair
is held from Magh Shukla Ekadashi (11th day of the lunar month) to Magh Shukla Purnima (Full moon day) according to the Hindu calendar, that is, for five days in February or March at a small delta formed by the rivers Som and Mahi in Dungarpur, which is just 13 km from Udaipur. Predominantly a tribal fair of Bhils, Baneshwar fair features Ras-lila (local plays) that takes place at night in the Lakshmi-Narain Temple and the traditional folk songs of Bhils that are high-pitched and sung while they sit around a bonfire in the night.
SHOPPING ATTRACTIONS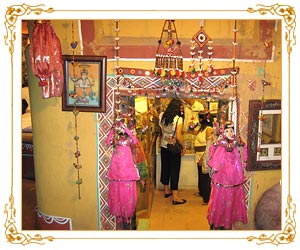 Beautiful local arts and crafts and countless shops flood the markets of Udaipur. The tourists love to buy hand painted fabrics, silver jewellery, folk toys, colorful tie-dye and batik saris and clothes, turbans, miniature paintings done in Rajput style and 'Pichwais', the brightly colored and themed wall hangings. One may shop for splendid metal images of gods and goddesses that are made in the nearby village of Molalla. The popular shopping spots are a cluster of stalls on the Lake Palace road, near Rang Niwas Palace Hotel and Jagdish Temple. Hathipole, Clock Tower, Chetak Circle and Bapu Bazaar are other favorite places to shop from.
WHAT TO WEAR
The most appropriate outfits to wear in Jodhpur include loose cotton clothes in summer and heavy woolen clothes to keep you warm in winter. Use a hat or a scarf as a head covering and drink lots of water to avoid heat strokes. It will be advisable to wear comfortable footwear, as you will have to walk a lot here while sightseeing. Sunscreens are not to be forgotten to save yourself from sunburns you may get from the scorching hot desert sun in summers.