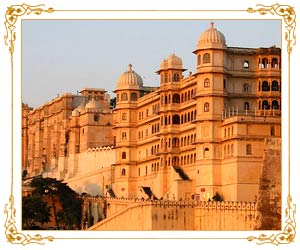 PRIME ATTRACTIONS
Forts & Palaces
City Palace
Built by Maharaja Udai Singh, the gorgeous City Palace is a marvel in marble, situated on the banls of Lake Pichola. Majestically set on a hill, it is flooded with balconies, towers and cupolas alonf with the superb views of the lake and the city that can be cherished from the upper terraces. Surrounded by fortification walls, it has a triple arched gate at the entrance called Tripolia, which was built in 1725. A perfect amalgamation of Medieval European and Chinese architecture, the palatial complex has a number of astonishing buildings, well-planned gardens and fountains.
Lake Palace
The Lake Palace is situated on the Jag Niwas Island in the middle of the Lake Pichola. It used to be a pleasure palace for the royal family in summers and has now been turned into a heritage hotel. Dreamy location, romantic ambience, fairy tale delicate craftsmanship and the interiors based on ethnic themes using textiles and handicrafts all over are simply outstanding.
Jag Mandir
The first island palace of Lake Pichola, Jagmandir was built by Maharana Karan Singhji in 1622 AD and was intented to be a pleasure palace for regal parties and functions. It has served as a refuge for Moghul Emperor Shahjahan when he was a prince against the wrath of his father in a family dispute in the seventeenth century. The legend says that Jagmandir was the inspiration behind the world-famous Taj Mahal, which Shah Jahan built in the memory of his deceased wife, Mumtaj.
Lakes
Lake Pichola
Maharana Udai Singh II significantly distended the gorgeous Lake Pichola as a defense measure, when he founded Udaipur. Cradled amongst hills, gardens, havelis, temples and ghats, Lake Pichola is the picturesque spotlight of Udaipur. The lake sports two islands palaces - Jagniwas (popularly known as Lake Palace) and Jagmandir. Visitors can enjoy boat rides which can be extremely enjoyable in the backdrop of the setting sun.
Lake Fateh Sagar
Lake Fateh sagar is an artificial lake constructed by Maharana Jai Singh in 1678 to the north of Lake Pichola. It is fringed by hills and woodland. There is a canal linking the two lakes via Swaroop Sagar and Rang Sagar Lakes. Nehru Island on the lake is just as beautiful as well as an islet bearing a solar observatory that seems to rise from the lake.
Gardens
Sahelion Ki Bari
On the banks of Fateh Sagar Lake, a beautiful garden was built for the 48 maidens meant to be a part of the dowry of the princess. Widespread lawns, gushing fountains and dappled walking lanes characterize the garden. The garden has four pools with graceful kiosks and fountains that sport elephant trunks for spouts. These gardens appear distinct and immaculate in taste.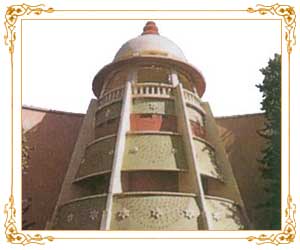 Museums
Bharatiya Lok Kala Mandal
The museum has on its display a wide array of folk arts, which has affluent collection of folk outfits, curios, puppets, masks, dolls, folk musical instruments and beautiful paintings. Visitors can also request for shows from world renowned puppeteers.
Maharana Pratap Memorial
Erected atop Modi Magri (Pearl Mount) near Fateh Sagar Lake, is an impressive equestrian bronze statue of the gallant hero, Maharana Pratap. The legendary and loyal horse 'Chetak' is as famous as his rider for his courage and fearlessness. The ruins of one of the first Udaipur's forts and an appealing Japanese rock garden are nearby interesting spots to visit.