EXCURSIONS
CIties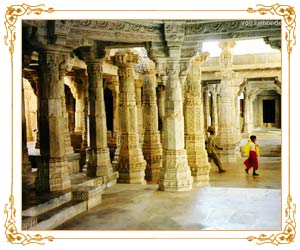 Ranakpur
Known for its sculptured Jain temples, built during the reign of Rana Kumbha, with 29 halls and 1,444 pillars (no two being alike), Ranakpur gets the spotlight because of its location and exquisite architecture, which can only be compared to Dilwara Temples in Mt. Abu.
Haldighati
40 km from Udaipur, Haldighati has secured its place in history forever. It was at Haldighati in 1576 that Maharana Pratap had a fierce battle with Mughal Emperor Akbar. The enormous territory was said to be covered with blood and it was here that Chetak, the legendary horse of Maharana Pratap gave a marvelous display loyalty towards his chivalrous master. A 'Chhatri' done in delicate white marble is dedicated both to the resolute hero and his devoted charger.
Temples
Eklingji
22 km from Udaipur, high walls surround a temple complex of 108 temples, known as Eklingji. Built in 1734, the temples are devoted to the regal deity Ekling ji. Made of sandstone and marble, the complex has an ornate 'mandap' or pillared hall, the awning of a huge pyramidical roof made of hundreds of knots.
Nathdwara
This temple is one the most distinguished Vaishnava shrines of Lord Krishna (popularly called as Nathji here). Thousands of pilgrims visit the shrine during the festivals. 48 kn from Udaipur, foreigners are not permitted in the temple premises and photography is prohibited there.
Forts
Kumbhal Garh Fort
84 km from Udaipur, Maharana Kumbha built Kumbhalgarh Fort in the 15th century. It is the second most important fort in Rajasthan after the Chittaurgarh Fort. Crowning the Aravalli Hills, the fort is not so easily accessible with seven great gates that stand guarding its entrance. Just 6 kms, from the Kumbalgarh Sanctuary, this mighty fort boasts of some great temples and the Badal Mahal or the Cloud Palace, which gives scenic view of the city.
Lakes
Jaisamand lake
48 km from Udaipur, it is an artificial lake built in 17th century by Maharana Jai Singh. The marble 'Chhatris' along the shores adds elegance to this second largest lake in Asia. There are palaces on either sides of the lake that were built for the beloved queens of the King. The islands on the lake still house the 'Bhils' (tribal people).
Rajsamand lake
66 km from Udaipur, there is a magnificent dam built by Maharana Rai Singh in 1660. This royal lake offers a stunning view of the sunset festooned by beautiful 'Torans' (arches) and 'Chhatris' along with various striking pavilions. Eye-catching sculpture and inscriptions of Sanskrit verses characterize the place.
OTHERS
Shilpgram
'Shilpgram' (means 'Craftsmen's Village') is just the right place to see India's diverse crafts, arts and culture. The lovely terracotta work done in dark red and dark brown sand materials along with the wooden carvings are the specialty of this ethnic euphoria. Shilpgram has 26 huts set in 70 acres of natural backdrop at the foot of the Aravali Hills.