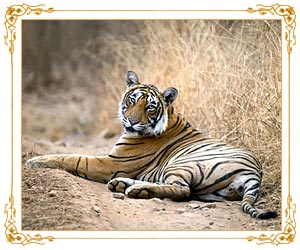 Ranthambore is primarily scores its point on the list of tourist attractions because of its tiger reserve. However, the place offers you much more for sightseeing and going on excursions. Situated on the border of the Thar Desert, Ranthambore is surrounded by the Vindhya Hills and the Aravali Hills. Its very location gives it an advantage of possessing the treasure of mysterious desert lands as well as plain area near the hills. The vegetation primarily comprises of deciduous forests.
Ranthambore was the erstwhile hunting grounds of the Maharaja of Jaipur until 1955 when it was declared as a game sanctuary. With the emergence of Project Tiger, it was declared a national park and listed among its protected reserves in 1980. With time, it emerged as the wildlife photographers' delight as it offers them a chance to photograph the tiger in its natural environment. A Jeep Safari in the national park, a cultural and traditional experience with the Meena tribes, and for the more adventurous, a night-out in the hideouts of the park makes Ranthambore a good choice to visit.
CLIMATE
Ranthambore has extreme desert climate having dry and hot summers and cool to chilly winters. The temperature in summer (from April to June) is around 40ºC. In winters (from October to March), days are sunny and pleasant days but during nights, temperature can be pretty low.
HOW TO REACH
By Air:
The nearest airport to Ranthambore is Jaipur, which in turn has daily flights to and from Delhi and Mumbai. It is also well connected with Udaipur, Jodhpur, Jaisalmer, Ahmedabad, Aurangabad and Calcutta.
By Train:
The nearest railway station to Ranthambore is Sawai Madhopur, which falls on Delhi-Mumbai route and hence some of the major trains stop here on their way.
By Road:
Ranthambore has bus services to and from Sawai Madhopur, which is well connected with all the major cities of Rajasthan, but they may not be very comfortable. Rajasthan tourism buses are little better but the best option is to hire a four-wheeler.
WHERE TO EAT
Ranthambore has quite a few restaurants and hotels and ones that are there are spread across over a vast area. Though Sawai Madhopur has few good eat-out points, it is much advisable to stuff yourself before you leave your hotel to ensure a good meal.
FAIRS AND FESTIVALS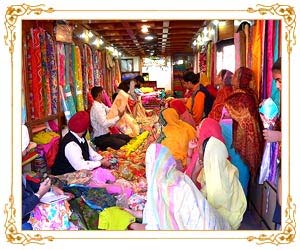 Ganesh Chaturthi
holds a special place in Ranthambore and Sawai Madhopur and is celebrated to commemorate the origin of Lord Ganesh, who is said to have been born on this day. The Ganesha temple in the fort of Ranthambore is one of the most eminent Ganesha temples of Rajasthan. On this day, thousands of devotees visit the temple. There are songs and 'bhajans' praising Lord Ganesha. The area has its own share of markets where you can find general merchandise and small trinkets to shop for.
SHOPPING ATTRACTIONS
Tourists who wish to go on a shopping spree may take a ride to the nearest town of Ranthambore National Park. Along with other typical Rajasthani memorabilia such as tie and dye and batik fabrics and traditional ethnic silver jewellery, the paintings in the style of Ranthambore School of Art is the hot picks among the tourists. The paintings typically portray tigers, inspired by the Project tiger, which aims to conserve the species.
WHAT TO WEAR
The most appropriate outfits to wear in Ranthambore include loose cotton clothes in summer and heavy woolen clothes to keep you warm in winter. Use a hat or a scarf as a head covering and drink lots of water to avoid heat strokes. It will be advisable to wear comfortable footwear, as you will have to walk a lot here while sightseeing. Sunscreens are not to be forgotten to save yourself from sunburns you may get from the scorching hot desert sun in summers.