PRIME ATTRACTIONS
Wildlife
Ranthambore National Park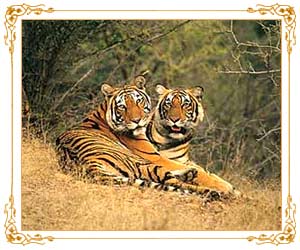 One of the premium tiger reserves of India, in the country, Ranthambore National Park sprawls across the area of 392 sq. km. Deciduous forests and Aravalli and Vindhyan ranges along with the three lakes, namely, Padam Talab, Raj Bagh Talab and Milak Talab, create a perfect habitat for the quick and treasured predators, tigers. The park also houses panthers, nilgais, sambhars, and variety of fauna and more than 264 species of birds.
Forts & Palaces
Ranthambore Fort
One of the oldest forts in Rajasthan, the fort was built in the 10th century by the Chauhan rulers. Situated strategically, it was meant to keep it safe from the hands of the enemy, yet, it could not prevent the unfortunate incident of royal ladies committing 'jauhar' (self-immolation) to save their honor from the plundering hands of the soldiers of the Muslim invader Ala-ud-din Khilji who laid siege on the fort in 1303. Temples, tanks, massive gates and huge walls characterize the fort and Badal Mahal (the Cloud Palace) within the fort is wort seeing.
Jogi Mahal
The Jogi Mahal is a pretty rest house in the heart of the forest overlooking the Padam Talab and is very close to the national park. Besides having all the facilities for a comfortable stay, it is also one of the tourist attractions because of its ancient banyan tree, which is said to be the second largest banyan tree in India.