PRIME ATTRACTIONS
Forts & Palaces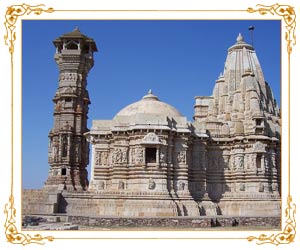 Kirti Stambh
Also Known as 'Tower of Fame'.A prosperous Jain merchant built the 22-metre high tower in the 12th century. The tower is adorned with sculptures of the Jain pantheon and is devoted to Adinath ji, the first of the Jain Tirthankaras.
Chittorgarh Fort
The stubborn pride of Chittaur, the fort is a gigantic structure with numerous gateways built by the rulers in 7th century. Crowning a 180 m high hill, it spreads in a area of over 700 acres. The tablets and 'chhatris' within the structure are remarkable reminisces of the Rajput gallantry. The most important gates are Padam Pol, Hanuman Pol, Bhairon Pol and Ram Pol. The fort has various outstanding monuments - some of them are the finest examples of the Rajput architectural style. The primeval ruins of the fort are worth beholding.
Vijay Stambh
Also Known as 'Victory Tower'.The daunting 37 metres high structure with nine storeys, covered with delicate figures of Hindu idols and portraying scenes from the two great Hindu epics - Ramayana and Mahabharata. Built in 1440 by Maharana Kumbha, it commemorates his victory over the Muslim rulers of Malawi and Gujarat.
Rana Kumbha's Palace
The remains of the structure are of immense historical and architectural interest, being the biggest monument in the Chittorgarh Fort. It is said that it was in the underground cellars of this palace, where Rani Padmini and other royal ladies committed 'Jauhar'.
Jaimal and Patta Palaces
The ruins of the palaces of Rathore Jaimal and Sisodia Patta reverberate with the stories of these two legendary 16-year old boys who defended the fort gallantly from the huge army of the Mughals when Maharana Udai Pratap Singh fled from there to save his life.
Padmini's Palace
A magnificent place dedicated to the beautiful and courageous Rani Padmini, it was here that Rana Ratan Singh showed a glimpse of queen Padmini to Alauddin Khilji. The rest that happened is history and turned out into the first-ever incident of 'Jauhar' in Chittorgarh Fort.
Museums
Government Museum
The glorious Prakash Mahal that has been turned into a museum these days has on its display some of the superb examples of sculptures from temples and buildings in the fort. It is kept closed on Fridays.

Fateh Prakash Museum
Fateh Prakash Palace of Chittorgarh Fort was converted into a museum in 1968. The main sculptures on its display are Ganpati (dating 8th-9th century) from Pangarh and lndra and Lain Ambica statues from Rashmi village of post-medieval period. There are different sections displaying weapons and armory and the clay models of local tribes with their traditional outfits.