Rajasthan is colorful because of what its people wear. The dull-colored monotone of the sands and hills look cheery with the vibrant spirits of the people who wear bright colors to make up for the absence of blossoming flowers. Interesting costumes and jewellery of these desert people are not mere ornaments for them. Everything from head-to-toe including the turbans, clothes, jewellery and even the footwear establishes your identity, your religion and your economic and social status in Rajasthan. The dresses of the males and the females are well defined and is made to suit the climate and conditions in which they live. While pagari (turban), angarakha, dhotis or pyjamas, kamarband or patka (waistband) form integral part of a male's attire, the female's attire includes ghaghara (long skirt), kurti or choli (tops and blouses respectively) and odhani.
Mens' Attire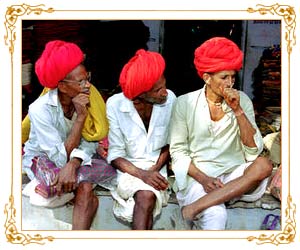 In Rajasthan, there is a proverb that states that 'a raga in music, taste in food and knots in a pagari are rare accomplishments.' The color of the turban, its style and how it is tied gets special attention from the people here as it symbolizes the caste and region from which the person belongs. People of Udaipur wear a flat pagari, while pagaris of Jaipuriyas are angular while Jodhpuri safa has distinction of having slightly curved bands. Angarakha (translated as the body protector) is usually made up of cotton. On festive occasions, people can be seen wearing tie and dye or printed angarakhas. The two main types of angarahkas prevalent in this region are - frock-style and waist-length kamari angarakha and long angarakha that reaches below one's knees. Dhotis or pyjamas serve the purpose of covering the lower part of the body. The dhoti is a 4 m by 1 m cotton cloth that needs some practice to tie perfectly. Usually white dhotis are in vogue but on special occasions, people also wear silk dhotis with a zari border. People of royal families and upper class used to wear patka, 1 ½ m by 1m cotton cloth that was kept on the shoulders or worn around the waist to tuck in the weapons in the medieval days. Now, it is no longer used and has become obsolete, though, one can still see Brahmins, which continue to put traditional dupattas on their shoulders.
Women's Attire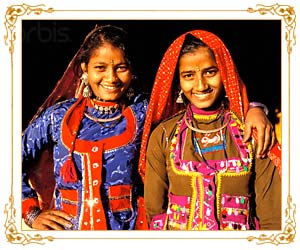 Rajasthani women wear ankle-length long skirts with narrow waist that gain width like an umbrella at the base. It is called 'ghaghara'. However, the length has been kept a little short on purpose, so that foot ornaments are visible. The width and the number of pleats in the 'ghaghara' symbolize one's prosperity. It comes in many colors and styles. The skirt is not folded at the lower end like normal skirts but a broad colored fabric known as sinjaf is sewn underneath to make it stronger. Ghagaras come in many styles but the most popular ones are dyed or printed cotton ghagharas with laharia, mothra and chunari prints just like the turbans of the males. The odhani is a cotton cloth 2.5 to 3 meters long and 1.5 to 2 meters wide that acts as a veil for women.
Footwear
'Mojaris' or 'jootis' (leather shoes made up of camel, goat or sheep skin) are worn by both males and females. Though camel leather is very soft and is only suitable to be worn inside the house, the shoes made up of goatskins and sheepskins are stronger and can be worn outside. Shoes are pepped up with intricate embroidery done on velvet or brocade, which is pasted on the outer part of the shoes. Jootis of Jaisalmeler, Jodhpur, Ramjipura and Jobre are especially famous all over the world.
Jewellery
Rajasthani jewellery has a distinctive style. Precious stones, diamonds and emeralds were not only used in ornaments but can also be seen in the hilts of daggers of kings and nobles, which are on display in the various museums. An earring or a pair of studs is common among men along with a gold chain or string of pearls (usually worn by the rich) or even silver 'hansli' (a variation of a thick bracelet worn around the neck usually worn by the peasants or the poor).
Tribal women of Gayari, Mina and Bhil are not far behind. Once they used to wear only brass ornaments made by Bharawas and it was customary for the bridegroom to give 25 kg of jewellery as a dowry. But times have changed and even these women have started using silver or white metal jewellery. There are other communities like Rabaris of Sirohi region and Raikas of Jodhpur region who wear heavy silver jewellery and often use inexpensive glass pieces to decorate them with. One can see captivating designs based on sun, moon, flowers, seeds and leaves on their jewellery. Besides the metal jewellery, Lac jewellery studded with glass pieces can also be coomonly seen in Rajasthan. To the south of Rajasthan, one can see women wearing bangles that are made up of coconut shell with a silver strip set in a groove in the centre.