In the land where only handful of varieties of grains comprising of wheat, maize, millets, corn, a few pulses, beans and lentils grow, it is amazing to see such an exotic cuisine that has originated in the state of Rajasthan. Besides the above-mentioned ingredients, the other things used by the desert people mostly consist of dairy products, the spices and herbs, the hunted animals and dry fruits.
Diversity In The Type of Diet
Different communities of Rajasthan have their own distinctive style of diets that is in general high-protein and low-fat diet except for the Marwari cuisine, which is highly rich in its contents. Rajput community is a warrior class and loves hunting. They are not averse to enjoying the meat of their game though it is not cooked in their daily kitchen. The game is cooked outside the home and is headed by males who serve as the chefs for the non-vegetarian cooking. Most of the other communities are strictly vegetarians including Vaishnavs, the followers of Lord Krishna, Bishnois, who are for their love of conservation of both plant and animal life, Marwaris, who are known for having rich diet and most notably Jains, who are very strict with their diet rituals. Jains do not eat after sunsets and do not use garlic and onions in their food, which is otherwise very popular amon the other communities of Rajasthan.
Non-vegetarian Food
Fishes and chicken are not very popular in Rajasthan. Colonel James Tod noted in his treatise, Annals and Antiquities of Rajputana, that "the Rajput...hunts and eats the boar and deer, and shoots ducks and wild fowl". However, it is not uncommon to see that all the warrior-class learns to eat whatever is available as it is a necessity in the game of survival. Today, the government of India has banned such hunting as these wild animals are now in the list of endangered species. Kachri, a vegetable belonging to the cucumber family, is used to marinate the meat and imparts it with a distinctive tangy flavor. The meat is first basted in the spices and then roasted in a pot over a wood fire until it turns into gravy. It is commonly consumed with bajra rotis (type of bread of millets).
Common Ingredients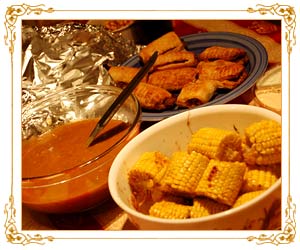 Dried beans and spices such as 'heeng' (aesofoetida), amchur (mango powder), red chillies and mustard seeds, pickled meat, dried preparations called 'papads' and 'badis' form a large part of Rajasthani cuisine as they could be conserved for long periods of time and proved themselves to be very useful in the early days when there was little produce in summers and transport was not so efficient. The curries prepared using these dried preparations and often yoghurt or buttermilk and a lot of chillies and other herbs are simply delicious. Rice is considered a delicacy in Rajasthan as it does not grow here. Chewing dried pork fat, called sauth, in winters was considered prevention against colds and is still considered a good traditional remedy.
Common Dishes
Karhi, popularly known as khatta, is made up of buttermilk or yogurt mixed with chickpea flour, mustard seeds and crushed garlic cloves and it is said that longer it stays on the fire, the better it tastes. 'Gatte ka saag', made using freshly made dumplings of chickpea flour and 'badi ka saag' made using sun-dried moth-lentil dumplings along with 'khichra' a porridge of millets and moth lentils that are cooked along with water, a little spice and some ghee in combination with either jaggery or karhi form a staple part of Rajasthani diet. The hot red-chilli-and-garlic chutney (a type of tangy Indian sauce) 'raabori', millet flour cooked in buttermilk, which is believed to be an excellent coolant in the summers) are quite popular with the food. Sangri and ker (a hard desert berry) abounds in the preparation of Rajasthani meals as vegetables.
Though sweet preparations are few, Bikaneri sweet specialists are known all over the country for their delicious preparations. 'Seera', made of wheat flour in ghee and 'laapsi', a porridge made with desiccated grains of wheat are the common desserts of the state along with sweetened rice dressed with saffron and dried nuts and raisins.
Regional Specialities
Dal-Bati-Choorma, made of butter, cereals and sweetened bread pudding of Jaipur is considered a specialty, cherished by all the Indians. Bikaner is famous for its sweets and bhujiya (salties) along with its papads, badis and on the non-vegetarian side, the lean mutton of the desert goats. Jodhpuri kachoris (puffed breads with stuffing) are either sweet (when stuffed with mawa) or quite tangy (when stuffed with hot green chillies and hot spices). Milk sweets of Bharatpur are not very commonly seen in markets but melt deliciously into the mouth. They are prepared by boiling milk for hours to such a consistency that it can be folded into little pancakes. Ghevar, a delicacy especially prepared during the Teej festival is quite popular. It looks like a round cake made up of white flour, which is then dipped into the sweetened syrup and is dressed cream and khoya. Kebabs and pasandas and sevaiyan, prepared especially during the Eid festival are an integral part of the Muslim dining table are have moved on from the Tonk and Loharu region to cover the whole of the state.