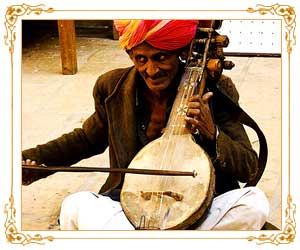 Music
Two types of music that are especially famous in Rajasthan are described below:
Maand
: Originated as court music, the maand is a distinct raga that was developed in Marwar. It is very sophisticated and involves complex inflexion of voices sung in deep bass but with time it permeated to the folk forms we know today and when ballads of the chivalrous rulers and local folk heroes are sung using maand raga, they have a unique haunting quality that echoes in the desert. Its popularity is evident from the fact that an entire festival in Jodhpur is dedicated to it exclusively.
Pabuji ka Phad
: Pabuji Ramdeo was a folk hero of the 14th century in the Bhopa region whose legends have become timeless in the form of ballads that are sung against a painted scroll known as the 'Phad' paintings where scenes from his story are portrayed in comic-strip fashion. Its performances were always held at night, when the villagers gathered for these performances. The Bhopa minstrel would sing the ballad and give the music using ravanhatha while his wife used to hold an oil lantern illuminate just the particular portion of the scroll that matched with the episode of the story he was singing about.