Rajasthan has some of the world's finest examples of architecture that reflects itself in its architecture. There are distinct influences of Rajput architecture along with the considerable influences of the Mughal architecture and the marks of the aristocratic British Raj in its structure and sophistication. Some of the well-known monuments have been covered here:
City Palace, Jaipur
: An amalgamation of traditional Rajasthani and Mughal architecture, City Palace complex has several palatial structures. Maharaja Jai Singh built the outer wall but there have been many additions since then. It sprawls over one-seventh of the area of the walled city and is in part of the palace still serves as a royal residence. The highlights of the palace are Chandra Mahal, Badal Mahal, Shri Govind Dev Temple and the City Palace Museum.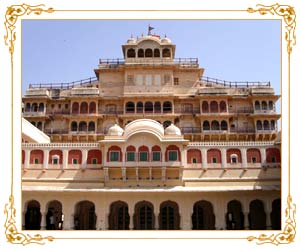 Havelis, Jaisalmer
: The beautiful sandstone mansions of Jaisalmer's wealthy merchants are known as 'havelis'. Patwon ki Haveli is the most convoluted and outstanding of all the Jaisalmer havelis. It stands in a narrow lane and one of its apartments is painted with stunning murals. Salim Singh ki Haveli was built about 300 years ago and a part of this is still being used as residence. It was owned by Salim Singh, a former prime minister of the state of Jaisalmer and has a arched roof with superb carved brackets inn the form of peacocks. Nathmal ki Haveli of the late 19th century was also a prime minister's house and two brothers carved its left and right wings, which are similar in their looks. Its highlights are yellow sandstone elephants that stand majestically at its entrance and the intricately carved front door.
Lake Palace, Udaipur
: One of the most romantic holiday spots of the world, this erstwhile summer residence of the royalty of Udaipur, it an island palace situated in the scenic waters of the Pichola Lake. Made up of white marble, it has now been converted into a fabulous heritage hotel with beautiful pavilions, landscaped gardens and legends that are an inseparable part of any Rajasthani marvel.
Umaid Bhawan, Jodhpur
: Built in 20th century, Umaid Bhawan Palace is made up of a particular type of sandstone used, which does not get weathered. An important part of Jaisalmer tourism, parts of the Umaid palace has now been converted into a hotel and a museum.
City Palace, Udaipur
: Originally started by Udai Singh, additions have been made to this building in such an ingenious manner that it is difficult to imagine that the building was not conceived as a whole. Standing on the shores of Lake Pichola, one can reach the palace through 'Hathi Pol' (the Elephant Gate), the 'Bara Pol' (the Great Gate) and the Tripolia (the Triple Gate). Complete with resplendent pavilions, terraces, corridors and hanging gardens, the highlights of the place are Sheesh Mahal, Krishna Vilas, Chini Chitrashala, Mor Chowk and the Amar Vilas.
Hawa Mahal, Jaipur
: Hawa Mahal is a multi-layered palace with a beehive structure built by Sawai Pratap Singh (grand son of Sawai Jai Singh and son of Sawai Madhoo Singh) in 1799 and was designed by Mr. Lal Chand. The beautiful use of red and pink sand stones outlined with delicate white borders and motifs are simply out of this world.
Manak Chowk, Jaisalmer
: Manak Chowk outside the Jaisalmer fort is the centre of local activity and is also a landmark through which one can reach the lanes where the famous carved havelis of Jaisalmer mentioned-above are to be found. Built mainly during the 18th and 19th centuries, Patwon-ki-Haveli is the best with a beautiful latticed façade, Salim Singh-ki-Haveli has an arched roof held up by well-excluded brackets shaped like peacocks while Nathmalji-ki-Haveli, has two wings, quite similar to each other but facing opposite sides guarded by elephants made up of yellow sandstone.
Vijay Stambh, Chittorgarh
: Translated as the Victory Tower, it is a nine-storeyed 37 metres high structure with sculptures of a secular nature to ornate the exteriors. Maharaja Kumbha built it in commemoration of his victory over the Muslim rulers of Malwa and Gujarat in 1440.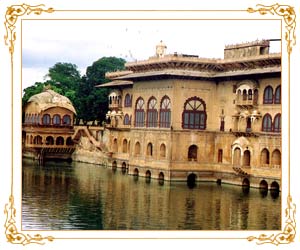 Deeg, Bharatpur
: 34 km from Bharatpur, Deeg is an ancient city known for its famous palaces, gardens and fountains and ruins of the old fortress, which contributed considerably in the making of the Jat principality. Deeg was the first capital of the newly carved out Jat state, when Badan Singh ascended the throne ruler in 1722. It is said that the Jat rulers of Deeg and Bharatpur impressed by the grandeur of the Mughal courts of Agra and Delhi, brought all items like gates, stone slabs, beam, from Mughal areas and used them in the construction or decoration of their places.
Jantar Mantar, Jaipur
: Jantar Mantar of Jaipur, the 'Yantralaya' of Sawai Jai Singh II built on his designs, is the largest of five astronomical observatories founded by him in 1716. The others are at Delhi, Ujjain, Mathura and Varanasi. It is a marvel in itself with its huge masonry instruments of extraordinary precision that can still be used quite efficiently.
Palace of Padmini, Chittorgarh
: The palace is situated in the Chittorgarh fort and was built in the 13th century for the legendary Queen Padmini whose beauty resulted in the historic battle between Allauddin Khilji and Rana Ratan Singh. As the legend goes, Rani Padmini self-immolated herself in a ritual fire pit to save her honor from the enemy with all the pride attributed to a true Rajput lady.