Museums are the surest way of gaining a clear and detailed understanding of the rich culture, traditions, arts, history, crafts and other notable features typical to a region and also offer you an opportunity to glimpse at some of the rarest and finest articles to be ever found in the world. Rajasthan has a number of museums with a most delightful collection on its display. We present here some of the most remarkable museums of the state: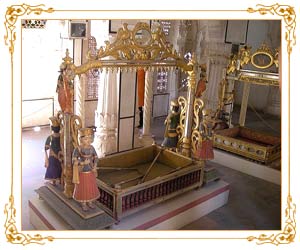 Mehrangarh Fort Museum, Jodhpur
: Inside the Mehrangarh Fort of Jodhpur, this excellent museum boasts of rare and interesting artifacts, textiles, painting transport items and its Palanquin Gallery and Howdah Gallery display some of the most captivating historic items that are both old and expensive.
Arabic And Persian Research Institute, Tonk
: Situated in the only-Muslim princely state of Rajasthan, this research institute houses a rare collection of Mughal literature, unpublished books and manuscripts of Muslim poets written in Arabic, Persian and Urdu, mainly from India, Iran and Arabian countries.
Birla Museum of Science & Technology, Pilani
: Situated in the Vidya Vihar Campus of well renowned Birla Museum of Science and Technology of Pilani, this museum throws light on the different aspects of engineering science. It has on its display the latest scientific equipments, models of material science and illustrative diagrams, working models, charts and photographs that are used as tools to explain the cumbersome principles of the sciences.
Fateh Prakash Palace Museum, Chittorgarh
: In the premises of the Chittaurgarh Fort, this palatial museum occupies a major portion of the Fateh Prakash Palace since 1968. It has on its display post-medieval sculptures including Ganpati dating back to 8th-9th century from Pangarh and lndra and Ambica statues from Rashmi village and beautiful clay models of local tribal people with their traditional outfits. The major sections of the museum are Archaeology, Art Gallery, Coins, Wood Crafts mainly those of Bassi village, Weapons & Armory and Tribal Life.
Government Central Museum (Albert Hall), Jaipur
: Situated amidst the gardens of Ram Niwas Bagh in Jaipur, this museum is believed to be the oldest museum of the state, designed by Colonel Sir Swinton Jacob in 1876 to welcome King Edward VII as Prince of Wales on his visit to India. It was opened to public ten years later. This museum has variety of rare articles on its display including metal and wood crafts, pottery, arms and weapons, textiles, carpets, paintings, flora and fauna of the state, toys, dolls, the famous carpet, which depicts the scene of a Persian garden carpet with running water streams, bought at a dear price by Mirza Raja Jai Singh I from Shah Abbas of Persia and even an Egyptian mummy that belongs to the Ptolemaic Epoch. It also displays miniature paintings of a number of sub-schools of Rajasthan.
Shri Bangar Govt. Museum, Pali
: Rich with the rare collection of antiquities acquired as contributions from the Pali region and the desert ancient kingdoms of Godwar and Marwar, Shri Bangar Govenement Museum of Pali provides a bird-eye's view of evolution of the rich culture of the region from past to the present and has on its display some superb sculptures, stonework, coins, folk costumes, jewellery & musical instruments from Bhimana and terracotta items.
Govt. Museum, Jhalawar
: Located in the old Garh Palace of Jhalawar, the Government Museum has on its display the 8th century sculptures and parts of architectural remains of Chandravati and epigraphs from the region of Jhalrapatan along with the numerous paintings and manuscripts from the area.
Govt. Museum, Mandore
: Remarkable for its beautifully carved cenotaphs, Hall of Heroes, Government Museum of the former capital of Marwar has a splendid Natural History section, where you can see an African Bison and a 11-ft.-long crocodile. A complete section of miniature paintings on Raga-Raginis, sculptures of gods and goddesses, especially those of the Dancer from 12th century and Krishna Leela from Kiradu carved on one big stone along with the carvings in Devals, Chattris, pavilions and Ek Thamba tower lends an ethereal beauty to the museum owed to its elaborate architecture.
Hawa Mahal Museum, Jaipur
: Situated behind the delicately carved Hawa Mahal of Jaipur in the adjoining Partap Mandir, this museum was built in 1983 and houses such sculptural heritage collections as terracotta items, antiquities, fish hooks, arrow heads, swords, helmets and personal belongings of the former Maharajas of Jaipur. Its m ain attraction is a big storage vessel dating back to 2nd century found during archaeology at Naliasar in Sambhar.
Maharaja Sawai Man Singh (II) Museum, Jaipur
: Located within the City Palace complex, Maharaja Sawai Man Singh II conceived this museum and it housed the ancestral collections built up by the successive rulers of Amer and Jaipur. However, the access to this museum was restricted only to selective visitors and dignitaries with the special permission of the Maharaja. In 1959, this private museum was opened to the public with its two main wings being the Pothikhana (displaying rare collection of paintings and over 16,000 volumes of manuscripts) and the Silehkhana (armory) and an addition of a new Textile and Costume gallery.
Virat Nagar Museum, Bairat
: Virat Nagar has been mentioned in the great Indian epic of Mahabharata as the capital of the legendary Matsayadesh. A small but perhaps the richest museum, here you can see some of the finest excavated potteries, seals, metallic pieces, pikkins, old coins, weapons and statues.
Archaeological Museum, Udaipur
: The museum at Ahar in Udaipur has a diverse collection of findings from excavations believed to be of a 4000-year-old town, at the mound of Dhulkot. The major attractions of the museum are the skin scrubber, seals and grain pot from 1st century BC, animal figures, stone weights and balls.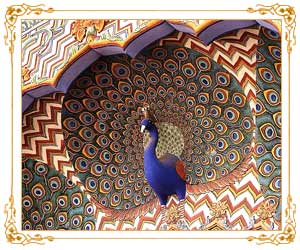 City Palace Museum, Udaipur
: Situated inside the palatial complex of City Palace standing on the banks of Lake Pichola in Udaipur, it was established in 1890 and is one of the earliest museums of the state and includes the Mor Chowk adorned with beautiful peacock mosaics, Manak (Ruby) Mahal with glass and porcelain figures, Krishna Vilas with beautiful miniatures, Bhim Vilas with its Radha - Krishna wall paintings, Bari Mahal, the central garden, Moti Mahal with outstanding mirror work and the Chini Mahal covered with ornamental tiles.
Folklore Museum, Jaisalmer
: Located on the banks of the Gadsisar Lake in Mehar Bagh Garden of Jaisalmer, this museum was built in 1984 and is divided into six sections with a rich collection of paintings, photographs, traditional costumes, hairstyles, jewellery, everyday items of use in rural life, the ornamentations of camels and horses and many such articles related to the folk and cultural lifestyles of the natives.
Govt. Museum, Ajmer
: The Government of India with the object of collecting and preserving many unique objects of antiquarian interest, which were lying uncared for and scattered all over Rajasthan, started the Museum in 1908. Situated in the fort and palace built by Mughal emperor Jehangir in 1616, it was named as the Rajputana Museum and its main sections are devoted to sculptures, epigraphs, prehistoric antiquities, arms and weapons.
Govt. Museum, Bharatpur
: Amidst the Lohagarh Fort, the palatial building of Bharatpur Museum was once Kachahari Kalan, the administrative block of the rulers of Bharatpur and has been converted into a museum in 1944. It exhibits sculptures in the excavations of the old villages of the region such as Noh, Mallah, Bareh, Bayana dating back to 1st century to 19th century and also the arms and weapons belonging to Jat rulers of the medieval period, paintings, manuscripts, zoological specimens, and local arts and crafts.
Govt. Museum, Jodhpur
: Placed in the Umaid Gardens on Jodhpur, this government museum displays stuffed animals that includes a number of desert birds in two glass cases, each with a thorn bush. The military section of the museum includes bulky wooden biplane models and an unusual brass battleship.
Govt. Museum, Mount Abu
: The museum set up in 1962 within the precincts of Raj Bhawan to preserve the archaeological wealth of Mount Abu is notable for its exhibits such as tribal weapons, musical instruments and ladies ornaments, miniature paintings on raga-raginis, wood carvings, finely carved out Devdasis or Nartakis (Dancers) statues from 6th century to 12th century belonging to an ancient township called Chandravati, Chapa's (local heroine of Achalgarh) inscriptions and the Abu collection that boasts of 404 sculptures, the most remarkable being that of the 3-ft-high Vish Kanya (snake goddess), which is shown breast-feeding a snake.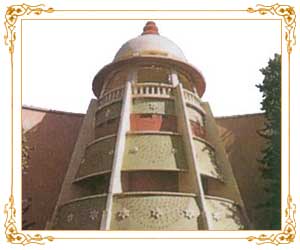 Bhartiya Lok Kala Museum, Udaipur
: A small museum neat the City Palace of Udaipur, it was laid out as a measure of the preservation of folk arts of the region including dresses, dolls, masks, musical instruments and paintings. The puppets are especially noteworthy.
Shilp Gram, Udaipur
: A living museum, Shilpgram stands on the banks of the Fateh Sagar Lake, 6 km from the City Palace of Udaipur. It is literally a village of craftsmen with 26 replica huts and has a wide collection of folk art including dolls and musical instruments and offers excellent glimpses of the tribal lifestyles of Rajasthan.
Fort Museum, Bikaner
: Inside the precincts of Ganga Mahal of Junagarh Fort in Bikaner, the Fort Museum displays a fine collection of antique Rajput arms and weapons, jade handle daggers, camel hide shields, inlaid handguns, gold and silver 'howdahs' (the seat made especially for an elephant ride) and a First World War biplane.
Archaelogical Museum, Amer
: Shifted to the Dil-e-Aram Gardens of Amer, the ancient capital of Jaipur, in July 1949 from Vidyadhar Gardens in Purana Ghat, it houses the archaeological evidences from the excavations in Rairh, Bairat, Sambhar, Nagar, Pamvar, Bansi and Virat Nagar and the sculptures and epigraphs collected from various sites in the erstwhile Jaipur State.
Dungarpur Museum, Dungarpur
: Established in 1988, "Rajmata Devendra Kunwar State Museum and Cultural Centre, Dungarpur has a sculpture gallery of the museum, which throws light on the history of Vagad Pradesh (the former princely state of the region) and a panel of portraits of the one-time Maharajas of Dungarpur State and photographs of historical interest.
Ganga Golden Jubilee, Bikaner
: Originally established near the Lalgarh Palace in 1937 on the eve of the Golden jubilee celebrations of Maharaja Ganga Singh, this museum in Bikaner was shifted to a new building in the Civil lines in 1954. The main exhibits of the museum can be classified as local arts and crafts of the region, sculptures, terracotta and bronze items, arms and weapons, miniatures and litho prints of the British interpretation of the war of Independence of 1857.
Govt. Museum, Alwar
: Located in the old City Palace of Alwar, it has an exclusive collection of arms, Bidri work, stuffed animals, lacquered and ivory work, miniature paintings, musical instruments, beautiful brass and pottery works from Jaipur, Multan, Bengal and Ceylon and Persian and Sanskrit manuscripts. There are three major sections of the museum - the first section houses various archaeological finds, chiefly sculptures and religious inscriptions, the second section has various Persian manuscripts including Gulistan of S'adi and fabulous paintings of Mughal and Rajput schools and the third section is the armory of state rulers.
Govt. Museum, Jaisalmer
: The Government Museum in Jaisalmer situated on Police Line Road was opened in 1984. It houses a large collection of wood and marine fossils and the sculpture dating back to the 12th century from the ancient townships of Kiradu and Lodurva and sepicts the graceful youth of those times.
Govt. Museum, Kota
: This museum of Kota was originally situated in Hawa Mahal above the fort's entrance and has now been shifted to the Brij Vilas Palace. Mainly known for its collection of sculptures, paintings and Mughal coins, it has been divided into archaeological section, painting section, manuscript section and local arts & crafts of Hadoti region.
Govt. Museum, Udaipur
: The Government Museum of Udaipur originally situated in Gulab Bagh with the name of Victoria Hall Museum, has now been shifted to Karan Vilas Mahal within the premises of the City Palace. It throes light on the richness of the culture and heritage of Rajasthan all the way through its wide-ranging collection of excavated items, inscriptions dating from 2nd century BC to 17th century AD, sculptures, paintings and handicrafts. The museum also has an interesting collection of colorful Mewari turbans.
Rao Madho Singh Trust Museum, Kota
: Situated in the premises of the old and massive 17th century Kota Fort Palace, this museum exhibits a fine collection of family treasures such as arms and weapons, miniatures, royal belongings, furniture and photographs. The upper galleries house Laksh Bhandar, Arjun Mahal, Chhatri Mahal and Baka Mahal that have on their display some of the finest Kota-school mural paintings.
Umaid Bhawan Palace Museum, Jodhpur
: Occupying a part of the massive Umaid Bhawan Palace of Jodhpur, this museum exhibits some of the rarest collection of clocks and watches, fine china, ornate mirrored furniture, glass and crystal ware and photographs. The palace is said to be one of the largest private residences in the world.