With varied topography that ranges from semi-arid and desert conditions to the rocky mountains to the lush green forests, Rajasthan is home to a diverse range of animal and bird life such as tigers, leopards, deers, rhesus monkeys, pythons and water-birds that come here in winters. Some of the famous wildlife sanctuaries and National Parks of Rajasthan are: -
Ranthambhor National Park: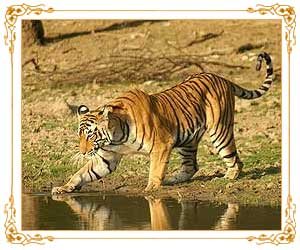 One of the most famous tiger reserves of India, Ranthambore National Park, Rajasthan came under the Project Tiger in 1980. Located in eastern Rajasthan, it is surrounded by the Vindhyas and Aravallis, has many artificial lakes and is home to many beautiful pavilions, palaces and the Ranthambore fort, which creates a unique backdrop to the stunning views of the barbaric nature of the wild cats here. This former hunting preserves of the Jaipur royalty, tigers, leopards, sambhars or Indian deers, cheetals, sloth bears, neelgais or blue bulls, chinkaras or Indian gazelles, hyenas, jackals, oxes, caracals, jungle cats, ratels, langurs and wild boars along with over 300 species of birds in the park are quite used to click of the cameras and do not really bother when they see humans trying to sneak into their private lives. Infinite number of still photographs and movies related to the tigers that have been shot here bear a testimony to this fact.
Desert National Park and Sanctuary:
Sprawling over 3162 sq km on the vast tracts of the sandy desert lands around Jaisalmer, Desert National Park and Sanctuary was conceptualized in 1980 to conserve the eco-system and the drought-resistant species of the region. The most notable achievement of the park is saving the Great Indian Bustard that had till recently been in the list of endangered species. Insects and animals typical to the arid areas such as the spiny-tailed uromastix living in underground colonies, desert monitors, which look like miniature replicas of dragons, sandfish that has adapted itself to 'swim' under the sand, chameleons and snakes such as the poisonous and deadly saw-scaled viper and Sind krait can also be found here. One can also spot desert hares, hedgehogs, predatory Indian wolfs, desert foxes and desert gerbils here with patience that marks a true wildlife lover.
Sariska National Park:
A tiger reserve in Alwar, Sariska National Park serves as the hunting grounds for the Alwar royalty, was declared a sanctuary in 1958 and finally, a tiger reserve in 1979. It houses the ruins of a fort, more than 1000 year old temples and the beautiful royal hunting lodge that has now been converted into a luxury hotel. Being situated on the Aravallis, Sariska's forests consist of low hills, steep escarpments, wide valleys and hill plateaus, making it a natural habitat for the endangered species of tigers. Being a major milk pocket, the cattle have eroded the region and the environmental balance of the region has been disturbed by the human interferences, posing a major threat to its wildlife.
With a little skilful watch, one can spot leopards, tigers, wild dogs, sambhars, neelgais or blue bulls, cheetals, four-horned antelopes, ratels, and chinkaras here.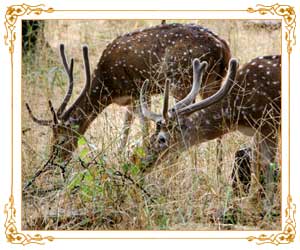 Keoladeo Ghana National Park:
Known all over the world as one of the best water-bird sanctuaries, Keoladeo Ghana National Park is the winter retreat of more than 400 species of our feathered friends from all over the world including China and Siberia, and especially the rare Siberian cranes. It has shallow, fresh water marsh that is the first love of so many migratory birds that made it one of the finest duck-hunting grounds for the erstwhile Maharajas until it was declared a national park in 1983.
Painted storks, spoonbills, ibises, geese and duck, cranes, herons and egrets, pelicans and flamingos, paradise flycatchers, parakeets, cormorants and darters, kingfishers, blue jays, shrikes, orioles, eagles and harriers make it a bird-watcher's paradise. There is an artificial lake in the park in which you go for an exotic boat ride to take a closer look of its rich fauna, which includes sambhars, blackbucks, chitals, neelgais, fishing cats, otters and mongooses.