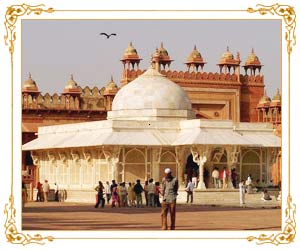 The remains of Sufi saint Khwaja Moin-ud-din Chishti lie buried in 'Dargah Sharif' in Ajmer and are held in held in great reverence by devotees of all communities. Khwaja had come from Persia and established Chishtia order of 'fakirs' in India.
The site has the distinction of holding the largest Muslim fair in India, where more than five lakh devotees from different communities come to pay homage to the Khwaja on his Urs (death anniversary). The pilgrims make rich offerings called 'nazrana' at the sacred spot where the saint has been entombed that include rose and jasmine flowers, sandalwood paste, perfumes and incense that put in to the fragrance that floats in the air inside the shrine. Cash offerings are also made. Also offered by devotees are the 'chaadar', 'ghilaph' and 'neema', which are votive offerings for the tomb. Outside the holy place of the Dargah, professional singers called 'qawwals' sit in groups and sing hymns in the praises of the saint in a characteristic high-pitched voice. One can also see 'fakirs' on the main gate begging for alms in the name of the Khwaja.
There are colorful and fragrant markets near the dargah, which sells rosaries, textiles, flowers, prayer mats, and general merchandise as well. On the last day of the sixth month, the 'Jannati-Darwaza' (gateway of heaven) is flung open early in the morning and it is believed that crossing this gate seven times will reserve their safe passage to heaven. There is an interesting ritual of looting 'kheer' (milk- pudding), which is cooked in two large cauldrons called 'degs' and distributed to the devotees as 'tabarruk' (blessed food), which is quite a spectacle to behold.