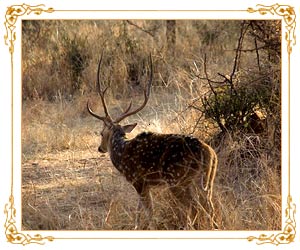 EXCURSIONS
Sariska
37 km from Alwar, surrounded by thick, dry, deciduous forests and imposing Aravalli ranges, lies 765.80 sq km of an outstanding tiger sanctuary, which was established in 1955 under the project Tiger. The sanctuary is noted for its varied population of tigers, nilgai sambhars, cheetals, four horned antelopes and wild boars. It also boasts of Sariska palace, built by Maharaja Jai Singh in the honor of the Duke of Edinburgh when he visited the sanctuary. Now, it has been converted into a heritage hotel.
Vijai Mandir Palace
10 km from Alwar, Maharaja Jai Singh built this awe-inspiring palace in 1981. Its reflection in the adjoining lake makes it a most picturesque sight. The palace has a remarkable Sita Ram Temple in attracting number of devotees, especially during Ramnavami. The palace is not open to tourists. For ones who are keen to visit the palace, they need to seek permission from the secretary.
Silliserh Lake and Palace Hotel
13 km from Alwar, this place is picture perfect with beautiful thick forests, a lake whose tranquil waters lures all the nature lovers, splendid chhatris on the banks of the lake and a majestic regal palace complete with the hunting lodge. Maharaja Vinay Singh built the palace in 1845 for his beloved queen, Shila. The palace has now been turned into a heritage hotel.