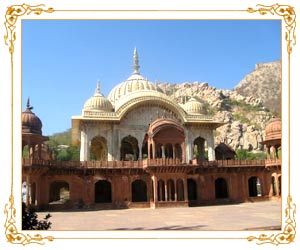 PRIME ATTRACTIONS
Forts & Palaces
The Fort
The fort stands majestically 595 meters above the sea level and was constructed long before the rise of the Mughal Empire. It is said that the fort has never been seiged but passed on through treaties and negotiations. The legends about the fort include one that says that Babar spent a night at this fort and because of his greed; he plundered the treasures of the fort to give them to his son, Humayun. Salim Mahal within the premises of the fort had been home for Akbar's son, Jahangir, during his exile.
Vinay Vilas Mahal
The palace belongs to 18th century and is an exquisite example of the pleasant amalgamation of the Rajput and the Mughal architecture styles. Now, the ground floor of the palace houses government offices and district courts while the upper part of the palace serves as a well-preserved museum.
Museums
Government Museums
The museum has some superb Mughal and Rajput paintings of 18th and 19th centuries and rare ancient manuscripts in Persian, Arabic, Urdu and Sanskrit. Among them are: - Gulistan (translated as 'The Garden of Rose'), Waqiat-I-Babri (autobiography of Babar) and Bostan (translated as The Garden of Spring'). It also has on its display a copy of the great epic 'Mahabharata' painted by the artist of the Alwar School and arms and weapons.
Gardens
Purjan Vihar (Company Garden)
The idyllic picnic spot in summers, Purjan Vihar is a picturesque garden that has been planned and set up under the rule of Maharaja Shiv Dan Singh in 1868. The garden sports a captivating setting known as Shimla, which was built by Maharaja Mangal Singh, and is so named for its cool shades that give quite a reprieve during summers.