EXCURSIONS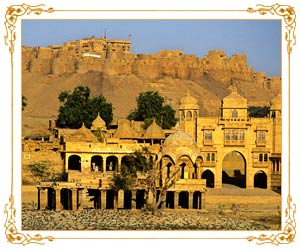 Sam Sand Dunes
10 km from Alwar, Maharaja Jai Singh built this awe-inspiring palace in 1981. Its reflection in the adjoining lake makes it a most picturesque sight. The palace has a remarkable Sita Ram Temple in attracting number of devotees, especially during Ramnavami. The palace is not open to tourists. For ones who are keen to visit the palace, they need to seek permission from the secretary.
Lodhurva
Just 15 km northwest of the city, one can visit the ruins of the deserted ancient capital-city of Jaisalmer, which was founded by the Lodra Rajputs and was handed down to the Bhatti Devaraja in the 10th century.
Bada Bagh & Chattris
7 km north of Jaisalmer, there is a massive dam built by Raja Jai Singh II and finished by his son at Bagh. An unearthly beauty now possesses these ruins of the gardens and chhatris, statues and cenotaphs of the former rules that was once an oasis in the land of Thar.
Kuldhara
25 km north of Jaisalmer, this 400-year old village that was deserted but has now been re-inhabited, is famous for its camel treks.