PRIME ATTRACTIONS
Forts, Palaces And Havelis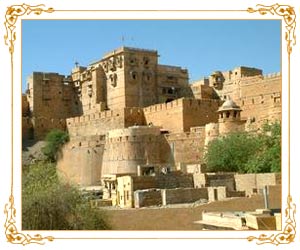 Jaisalmer Fort
Perched on the 250 feet high hilltop, Jaisalmer fort is the second oldest fort in Rajasthan (after Chittor) and provides an ecstatic overview of the desert land all around. There are three fort walls and four gates through which we pass to reach the palaces within, namely, Akhai Pole (Ganesh Pole), Suraj Pole, Bhuta Pole and Hawa Pole. There were deliberate sharp turns on the pathway to make it invincible. Sharp turns on the road topped by high defence gateways made it invincible. Meghadamber, an umbrella that symbolizes Lord Krishna perches on the highest point of the place. In the 15th century, the local Jain Panchayat built the first buttress wall. There were subsequent fortifications and additions by the Rawals later. There are five palaces in the fort - Sarvottam Vilas, Akhai Vilas, Gaj Mahal, Rang Mahal and Moti Mahal - which are interconnected. They have beautifully carved jail screens to protect the interiors from the raging desert storms and scorching heat and delicate and extremely beautiful murals painted on their arches and spandrels. The famous Jain temples located within the fort can be rightfully compared to Dilwara temples in their beauty, ornamentation and splendor.
Salem Singh ki Haveli, Patwon ki Haveli and Nathmal ki Haveli
These 'Havelis' (Rich Merchants' house) are the gems of the unique and grand architecture of Jaisalmer. Salem Singh haveli, at the eastern end of the city, is like a wild flower as if it is blossoming at the top. Situated in the heart of the city, Patwon ki Haveli was built by Guman Chand Patwa and his five sons who dealt in brocade, gold and silver embroidery that was famous from Afghanistan to China. It amazes us to see how the carving on stone reflects the beauty of the work on brocade and gold. The most magnificent mansion in Jaisalmer, it is like a out-and-out museum piece in the open. The third haveli was built by Nathmal, a later day prime minister, and his brother in 1885, as a gift to the Rawal but was allowed to retain it. Built by two brothers in 1885, this haveli has two identical looking portions, which are in fact two different parts united by a common façade. Look for the projected balconies, which seem to emerge from books of poetry. So ethereal and charming, the carving never looked better. A perfect example of jeweller's art applied to stone carving. The Muslim artisans did a breathtaking job leaving their marvelous legacy of craftsmanship excellent in detail and flawless in conception.
Lakes
Gadsisar Lake
The calm waters of this rainwater lake with its green surroundings, clusters of small temples and a quaint museum at its periphery is more known for its tich folklore tales than its beauty.