EXCURSIONS
Osian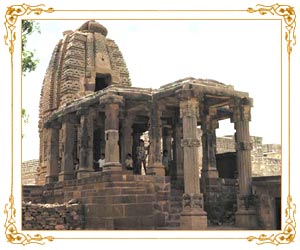 This pleasing gateway is 65 km away from Jodhpur, formerly known as 'Ukeshpur'. Osian is a large centre of Brahmanical and Jain temples, which dates back at a span of five centuries. The Sun Temple is the most venerated and the oldest temple amongst them. To our surprise, most of these temples face in the west direction. Moreover, there are the Mahavira Temple and the three Vishnu temples that are worth visiting.
Mandore
Situated 8 km from the city, Mandore was the former capital of Marwar before Jodhpur. The old cenotaphs of the Rathore rulers are the main attractions here along with the rocky caves, which once were a roof to homeless ascetics. Sixteen deities are carved out of the rock face that are slightly dazzlingly presented in a place adjacent to a temple within the complex. The deftly landscaped gardens are crowded with an array of birds and small animals. The luxuriant foliage set to music against the rippling fountains truly presents a picturesque sight.
Jhalamand
10 km from Jodhpur lays the imperial retreat of Jhalamand. The 18th century palace is set amidst serene surroundings and is a perfect getaway. One can take a walk of the village or choose for the safaris here.
Mahamandir and Balsamand Lake
Mahamandir is 4 km northeast of the city. An old town surrounded by walls, it was built in 1812, which features the hundred-pillared Shiva temple. Just 3 km away is Balsamand, an artificial lake with a summer palace on its banks, a public park and bird sanctuary that makes it a perfect model for a peaceful reprieve. The palace has now been converted into a hotel.
Sardar Samand
66 km of postcard-perfect beauty and passing sights of Bishnoi villages (the Bishnois are the oldest conservationists in India) brings one to the hunting chalet of the regal family, which has now been converted into a hotel. The rooms though not lavish are open and have unpretentious interiors. Their old-worldly dwellings and the sight of the lovely Black Buck acts as an overture to the revelation of the calm waters of Sardar Samand Lake.