PRIME ATTRACTIONS
Forts & Palaces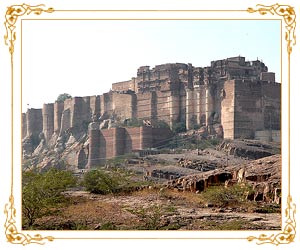 Mehrangarh
The unconquerable Rao Jodha built this impenetrable fort, which is certainly one of the best in India, on a vertical hill with a breathtaking view of the surroundings. The fort has elaborate latticed windows, intricately carved panels and gracefully curved porches.
Every part of the fort has a distinctive appeal, the Moti Mahal, Phool Mahal, Sheesh Mahal, Sileh Khana and Daulat Khana all add to the distinct ambience of the fort. High on the wall, is the second largest cannon in Asia, whose recoil itself requires as large an area as a football field!
As you keep wondering over the magnificence of the fort, don't forget to explore the museum shop that displays some of the best handicrafts, books and literature including some unique products like 'Pea Pulao Poster'. Fort
Umaid Bhawan Palace
This flamboyant palace was built in the 20th century as a famine relief project, with a purpose to give employment to the people for a long period of 16 years. A remarkable art-deco construction, Umaid Bhawan is resplendently maintained and one of the most impressive sights in Jodhpur. The museum within is a genuine treasure showcase of mementos displaying the royal history of Jodhpur from clocks and tea sets to paintings and royal costumes. The palace has now been converted into a heritage hotel, though it is still a royal residence in part. The museum is open to visitors for a chosen entry fee and is closed on Mondays.
Monuments
Jaswant Thada
The white marble marvel, this 19th century cenotaph was built close to the fort complex, in memorial of Maharaja Jaswant Singh II. Exceptional portraits of Jodhpur's precedent rulers are also exhibited here. Particularly captivating are the intricate latticework and the elaborate carving on the doors. The garden and water tank in front of the cenotaph are superb and heighten the tranquillity of the monument.